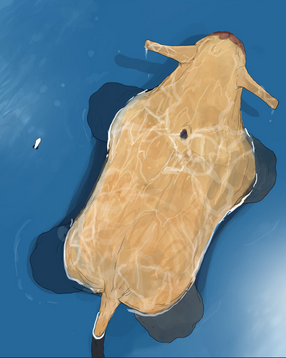 Team Tangsooyook
arrive at a testing arena on the
21st Floor
when
Noma
informs them that the rest of the teams forfeited upon hearing that
Viole
was participating in the test. But Noma says that they have an interesting alternative for situations like these and they board a carrier-like vehicle and head out to sea. The team is enjoying itself until they are dumbfounded by the appearance of Zygaena, which dwarfs the vessel they are on. Noma briefs them on their mission: to retrieve Zygaena's jewel that grew in a flower inside Zygaena. He also warned them that they had 2 hours, after which Zygaena would submerge itself, and that it flipped once every half an hour, then sent them on their way.
With Wangnan, Goseng, Miseng and Akraptor on one side and Yihwa, Viole, Prince and Horyang on the other they enter Zygaena. The latter team is slightly delayed by Yihwa blowing up their motorboat and having to swim up. This also led to the latter group being further split into another two groups: Prince and Horyang, and, Viole and Yihwa.
As Wangnan's group enter Zygaena, there is a man next to Zygaena's flower with the word 'Mazino' tattooed on his back. As the group walks on, they come across a vast room with multi-coloured rings floating around. They are debating whether to cross when Zygaena's flower, attached to a small animal, rushes past them and jumps across the rings. Wangnan chases after it and, with the help of Goseng's lighthouses, they pin down the animal, only for it to break free and keep on running.
Meanwhile, Prince and Horyang have arrived in a cavernous room, when they are attacked by a red parasitic insect-like Shinheuh. They defeat it easily, but Horyang deduces that it was running away from something. He looks up only to see a vast number of the red Shinheuh falling. After they all heavily crash to the ground, Urek Mazino can be seen standing on top. Horyang yells at Prince to run, but Urek issues a large yellow explosion and forbids them from running. Horyang talks to him and he discovers to his bewilderment that Rankers have been sent here before.
This rumbling encounter with Urek is felt by Viole and Yihwa as well and, to her chagrin, he rushes off. He meets up with Horyang and Prince, with Horyang warning him that the test is beyond their capabilities and that they should give up.
Meanwhile, Wangnan's group is still chasing after the animal with Zygaena's flower when it dives into a small hole. Wangnan tells Miseng to go in, displaying unusual intensity which Akraptor picks up on. Miseng agrees and goes in after the animal. Akraptor and Wangnan go elsewhere to explore, leaving Goseng to keep them in contact, and Akraptor confronts Wangnan. Wangnan reveals what he learnt from Hwa Ryun: Viole is climbing the Tower to protect his friends.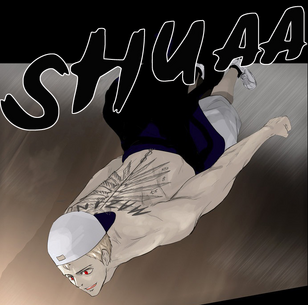 At Horyang and Viole's location, Viole instructs the rest to give up the test while he completes it. He goes on to say that there is something he fears more than death. Urek approves of Viole's resolve and initiates a game. The flower is at the bottom of Zygaena. Viole will race to get it but if Urek catches him, Urek gets to take his life. Horyang tells Prince to contact everyone and get them to regroup and help Viole.
Urek and Viole talk to pass the time until Zygaena flips over. Urek reveals his intentions to escape the Tower, while Viole responds that he doesn't care about anything but protecting those who are important to him. With that, he uses Shinsoo to blast off. Urek gives him ten seconds, just enough time for the rest of the team to regroup, then blasts off himself.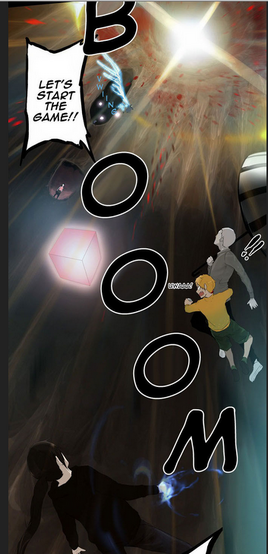 Horyang and Prince try to use their combination attack to stop Urek, but due to his high Shinsoo resistance, he easily blasts Horyang into the opposite wall. Yihwa, Akraptor and Wangnan try to combine their attacks, but Urek blasts through all of them and continues for Viole. Urek uses Usurper's Inferno, while Viole counters with Floral Butterfly Piercing Technique just as Miseng, who was chasing the animal with Zygaena's flower, came out of a small side tunnel. At the last moment, Viole shields Miseng, sustaining injuries but earning Urek's respect. Urek expresses his surprise at this animal and takes it, leaving the flower at the bottom for Viole as a reward for his courage.
As he leaves, he instantly defeats three Rankers who were waiting for him and reveals to Noma that the animal was Zygaena's baby that depended on the flowers for nutrients and, that they harvested the flowers in the hope that the jewels would retain their rarity. He says that in a couple of centuries, Zygaena's jewel would be the common, though their beauty will be undiminished.
As Urek left the Floor, Yuje noticed a cut on his cheek that came from Viole. He tells Yuje to put Viole under surveillance.