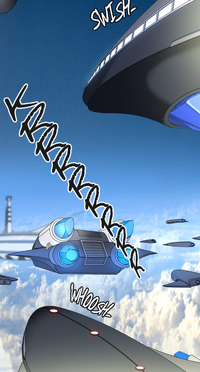 Zahard's Army(자하드의 군대, Jahadeuui Gundae) is an army that serves and fights for King Zahard and his Empire. The entire army is being led by one of the princesses, Adori Zahard as the Commander-in-Chief.
About
King Zahard's Army contains the largest amount of High-Rankers, Rankers, and even Regulars which easily makes it the biggest and most dominant army in the entire tower. Zahard's Army has never failed in an operation carried out directly by a corp's commander.[1] The army also has the power to avoid rules if necessary to complete their operation with the Floor Guardian's permission.[2]
Because the army has never failed a mission carried out directly by a Corp's Commander, the consequence is currently unknown. Some members of the army were worried about the consequence which possibly includes execution for failure.[3]
Tiers
The Zahard Army's Corp members under their commander consist of 4 known tiers most likely indicating their power and influence. At 1st tier being the highest and 4th tier the lowest.
The Army
Zahard's Army currently has 4 known corps, and each of them has multiple divisions. So far only the 4th army corp has been revealed and was taking care of their mission at the Last Station.
Commander-in-Chief
(Active)
4th Army Corp
Corps Commander
Vice Corps Commander

(Active)

Kallavan
(formally)

(Active)

Elpathion
(1st Tier)

Yolker(Active) (2nd Tier)

Tinker Yolche(Active) (3rd Tier)

Tinker Yolche's Twin (Active) (Unknown Tier)

1
2
3
4
Affiliates
Rankers
Regulars
Image Gallery
Notes and Trivia
When Zahard or a Princess with a 13 Month Series appears on the battlefield, the Zahard's army has to kneel before them with no exception. No matter what's going on, they must get down on their knees. It's because they have a faith in Zahard or the Zahard Princess that they will protect them even if something goes wrong. That's how much the Zahard Princess means to the Zahard's army.[4]
References
Community content is available under
CC-BY-SA
unless otherwise noted.