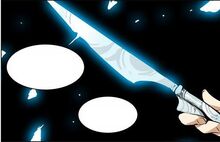 White Heavenly Mirror (백천경 (白天鏡?), Baegcheon'gyeong; "White Sky Mirror" or "White Heavenly Mirror") is an item created by The Workshop researcher Io as a reward for shooting the most people with "light" bullet and sending them up to Archimedes in the One Shot, One Opportunity game.
Effect
This light blue knife-like item has three "magical" (요술, yosul) properties but only one is currently known:
Sealing: When the user stabs a target in the "heart" (심장, simjang), the target gets sealed into the White Heavenly Mirror's mirror-like blade.[1] While individuals are sealed inside the White Heavenly Mirror they are unable to communicate with the outside of the blade, yet individuals such as Vicente are able to synchronise with the blade and be able to communicate with those near the blade. [2] When the distance between the White Heavenly Mirror and the owner reaches a certain point, the seal breaks and the people inside the mirror are released.[3] Until now, the weapon has been seen to contain two people at the same time,[3] so it's unknown the Mirror's limit.
Unknown Abilities: Not much is known about the White Heavenly Mirror's second and third abilities. However Khun refuses to use them, as he deems the abilities "dangerous".[4]
Ownership
Khun Aguero Agnis was the first known owner of the White Heavenly Mirror, however, he seems to have unlocked the owner's limit after Ja Wangnan used it to seal Vicente during the events of the Hell Train. Only the owner of the White Heavenly Mirror can use the weapon's abilities. Unless the owner unlocks the owner's limit of the item, no person may use the hidden abilities. [5] After the Dallar Show, Chang Blarode and Quaetro Blitz took Angel and Buelsar Elliot whose souls are in the White Heavenly Mirror and left.[6]
Notes
Free translations: Divine Hourglass, Clear Dream Blade.
Gallery
References
Community content is available under
CC-BY-SA
unless otherwise noted.