Jurassic World: Dominion Dominates Fandom Wikis - The Loop
Play Sound
"
My name is Hoaqin. I am the one who seeks to regain his throne. And with the assistance of FUG, I will have the Tower under my control. Soon, you will come to know... How great I truly am.
"

—Hoaqin to Team Rachel[3]
Hoaqin (호아퀸, Hoakuin) is a Slayer candidate of FUG that was sealed in the Hell Express long ago.[4] Daniel's team woke him up, hoping that he could revive Roen Yuia from the dead.[5]. After the events that took place on the Last Station, Hoaqin took possession White throughout the duration of The Nest, until his eventual defeat by Baam. After losing his powers, Hoaqin lost control of his mentality and escaped back into his inner self. This allowed Vicente to take possession of White.
Appearance and Personality
Hoaqin has a very androgynous and child-like appearance with youthful effeminate features and short stature. He is extremely pale, with silvery-white hair, silver-colored eyes, and crimson lines underneath his eyes. Atop Hoaqin's head sits a silvery-white crown and he wears the pale white gown-like garment. He carries around with him a long Zweihänder that has a spiked cross-guard.
After absorbing Vicente, David, and Anna, Hoaqin's overall appearance changes slightly, with his facial features becoming more adult-like and his height increasing to that of a model.[6] His attire changes slightly too and his sword becomes more ornate with a red jewel on its guard.
Hoaqin holds himself in high regard and exudes a regal aura about him. He appears to be somewhat arrogant and carries an open disdain for Guides. Hoaqin is extremely driven in his goals and seems to desire power to achieve them. He was the one that suggested merging with his siblings and was also the one who was in control of White before the latter's 'fall', which indicates that he likes to lead rather than follow. Hoaqin is cruel and sadistic towards the people who encounter him and spare no thoughts killing people who provoke or killing them on a whim. He likes to toy with people for his amusement and "meal".
History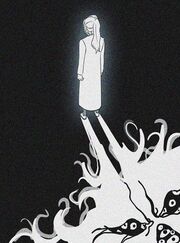 Hoaqin was part of a family that was gifted in swordsmanship and was considered a 'genius' being able to defeat everyone except Vicente during sparring sessions.[7] He then made his plans to surpass his father clear and, after four of his other siblings came to the same conclusion, he suggested merging their powers to become like their father. While sleeping, Hoaqin met an ancient demon that offered him power in exchange for his siblings, and when he awoke the spell was in front of him.[8] After being chosen to climb the Tower, Hoaqin revealed to the others that he had found a spell that would allow them to do so and after studying the spell[8] they ended up becoming one composite entity[9] called "White", however, Hoaqin was the only one who actually made a deal with the demon.[8]
After "the incident", White had to split their souls again in the Hell Train but to do so they needed a lot of "sacrifices", but they failed and were sealed in an unstable condition.[9]
When Boro, Aka, Sachi, Daniel, and Roen first entered the Hell Train, Hoaqin saw them and told them they were interested before asking them if they would be his underlings.[3] After Roen chastised him, Hoaqin merely introduced himself as FUG's Slayer candidate before leaving. Then, during the journey, everyone on board the Train became his underlings until, once everyone had come to his side, he made the Regulars kill each other in order to gain back his power.[3] Eventually only five Regulars remained:[10] Sachi, Aka, Boro, Daniel, and Roen. After Roen ended up dying and the other four were forfeiting the train, Hoaqin told them that one day he would "return" there and he was only going to be hiding "it" in the Train until he returned.[10]
When the door sealing him was opened, he smiled deviously and greeted Daniel saying it had been a while. After coming out of his sealed room, he casually noted Hwa Ryun's presence and degraded her kind before stating his goal to regain his throne. He then asked if his child-like appearance stopped them from feeling his greatness but the Mad Dog said they could before introducing himself. Hoaqin acknowledged Buelsar's words before telling Daniel he had brought an interesting group. He then asked why Daniel was being so foolish before disregarding the statement and asking who the others were. Rachel then introduced herself and Ha Yura before showing him Emile that would allow him to regain his power, impressing him. With his tummy grumbling, Hoaqin and Rachel's group moved out.
As they left the room they encountered Ja Wangnan and Yeon Yihwa and, after a brief altercation that resulted in Wangnan almost getting his hand cut off, the two were captured and brought along with them. They then proceeded to successfully pass the 36th Floor stage of the Hell Train.
In the lounge of the Hell Express, Hoaqin complained to Daniel about his hunger as well as discussing their mutual surprise about what happened in their pasts. When the train announced it would be arriving at the 37th Floor station, Hoaqin smiled that he'd now be able to eat, with Daniel telling him to be patient, but Hoaqin disagreed.
When the train finally arrived, Hoaqin tried to exit the train but Daniel stopped him telling him he was bound to the train by his contract with the Guardian. Rachel then appeared with Ha Yura and told them that it wasn't a problem as they had attracted many Regulars with Emile. At that, the four came out of the train and Hoaqin announced the event for Regulars to get on the train: behead four other Regulars. Some of the Regulars complained until Hoaqin showed them his incredible power with a devastating attack. Two confident Regulars from FUG then said they'd take his challenge and also his head, getting Hoaqin interested. Hoaqin then changed the rules and told everyone to behead the two FUG Regulars instead, however, the two easily subdued everyone and said they'd come for him next. Hoaqin laughed and exclaimed that everyone should remember his great power as he attacked with an incredibly destructive Shinsu blast that annihilated a large number of the Regulars down below, including the two FUG Regulars.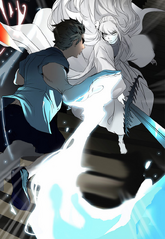 Because no-one decided to climb the stairs to the train, Hoaqin decided to go back inside until he saw
Boro
racing towards the train. Raging madly, Hoaqin prepared to attack only for electricity to suddenly rain down upon the train seemingly out of nowhere. Wondering what had happened, he suddenly noticed people landing on the opposite set of stairs. Readying to attack again, a Regular who turned out to be
Jyu Viole Grace
blocked his sword lightly surprising him. Deciding to kill his competition, the two started fighting with Hoaqin quickly taking advantage with his unique swordsmanship skills. However, before the fight could continue any further, they were all teleported into the
Train conductor's
office. The conductor told them about a game to decide who would become the true Slayer candidate would occur in a month's time on the 39th Floor section of the train, much to Hoaqin's displeasure.
Hoaqin raged about Karaka breaking his promise and agitatedly asked Daniel if there was any reaction from the seal, but to no avail. Rachel then said that Emile indicated Hoaqin's other part was nearby and Hoaqin gratefully thanked her. However, when they reached the other part's room, he was not there much to Hoaqin's confusion.
Just then, Hoaqin felt the presence of his copy and rushed towards it until he came across his other part known as "Vicente". Happily reuniting with Vicente, Hoaqin eagerly said they should become one again and also explained the current situation to him. Vicente agreed but asked who would disappear once they merged. Hoaqin tried to convince Vicente, but the latter rebutted him and said it was now his turn to take the driving seat. Hoaqin frustratedly attacked Vicente and told him he would eat all his soul so he could never wake up again. However, Wangnan suddenly stabbed Vicente, making him disappear, and then fled making Hoaqin fly into another rage. Hoaqin angrily chased after Wangnan but lost him when the pathways changed, however, he then met up with another sibling, Anna. As his group continued to traverse through the train, Hoaqin began the process of regaining Anna's trust.
Reaching the 4th stage first, Hoaqin noted that Jyu Viole Grace hadn't arrived yet and hoped that his opponent hadn't chickened out. As Hoaqin wondered if Viole had got scared, Wangnan and Vicente's group arrived surprising Hoaqin. Hoaqin then called Vicente out on siding with such "low-class" people. Hoaqin then saw the arrival of Viole and his allies.
Hoaqin informed Anna of their enemy Jyu Viole Grace before belittling the latter. After the rules for the Dallar Show's first-round game was explained, Hoaqin watched with an interested grin as he saw Rachel get severely outclassed by Khun and ultimately lose the round. Upon her return to their area, he nonchalantly berated her before saying she was not allowed to participate any further. In the second round's game, Hoaqin was partnered with Daniel Hatchid and Anna. They eventually came across Aka, Boro, and Sachi with the latter challenging Hoaqin. Hoaqin said Anna would be fighting them and he then watched contently as Anna proceeded to do so. Vicente then arrived and told him he was there to finish things. Hoaqin then attacked him, saying that Vicente would vanish as everything up to now was because of his own accomplishments.
The two brothers clashed ferociously with Vicente calling out Hoaqin on his sinful actions since becoming White and Hoaqin affirming that it was all necessary to become strong. Hoaqin then mentioned that no-one would accept Vicente as the center but Vicente said another already had. Just then Hoaqin heard the voice of his brother David behind him greeting him. As Hoaqin wondered what happened, David (possessing Wangnan's body) stabbed him in the back, causing Hoaqin to realize Daniel had betrayed him. Vicente dealt a seemingly fatal blow but Hoaqin then revealed that regardless of everything, the center would always be him as he was the only one who made a deal with the demon. He then consumed Vicente, Anna, and David's souls becoming one step closer to being one again and then told Daniel he no longer needed to revive Roen because of the betrayal. Daniel then attacked but Hoaqin quickly subdued him by impaling him on his sword. Just then Sachi, Boro, Aka, and others arrived and prepared to attack but Hoaqin stopped them by threatening to behead Daniel. Hoaqin then gave the three a choice to save Daniel by sacrificing themselves but the three refused.
Just then Jyu Viole Grace arrived and told Hoaqin he had come to stop him. Viole then asked what he had done to lose his Slayer position and Hoaqin casually explains before telling his opponent he would start his resurrection by cutting off his head. Viole confidently replied that he wouldn't let Hoaqin win before the latter launched his first attack which Viole dodged. Hoaqin then clashed with Viole (and Sachi) with the latter making movements to take him down. However, he overpowered and dominated the group. In a last-ditch attempt to take Hoaqin down, Aka gripped him from behind enabling Viole to stab him in the chest with the White Heavenly Mirror, however, Hoaqin told them their plan was futile just before the round ended. He then told Viole he would settle things in the final round.
In the third round, after Hoaqin saw that only Rachel and Ha Yura had joined him, he chastised the other members' efforts. At that Poro announced the third round game, "Go To Hell". Just then a mysterious girl appeared, claiming to be his "final clone", but Hoaqin failed to recognize her. The clone then stated they would help either him or Viole during the game, which infuriated Hoaqin. After Poe allowed her participation, annoying Hoaqin further, he explained the rules of Go To Hell. With the game getting underway, Team Viole's first hostage was released and Hoaqin bemusedly watched as Viole went down to save him. When Team Hoaqin's first hostage was released, Hoaqin revealed more of his past to Viole and used it to justify not saving his hostage. In response, Viole angrily berated him for his callous attitude before going down himself to save Mad Dog. Hoaqin then observed with interest at Viole's increasing speed. With Mad Dog saved, Viole furiously announced that he would not let Hoaqin have his way. With Team Viole's second hostage being released, Hoaqin rebuked Baam's words and actions and stated that he would settle things on this turn by going down too, as this was a battle of beliefs. When the submarine reached the 20 marks, both descended with Hoaqin attacking his opponent on the way down. Viole retaliated accordingly, allowing him to get by Hoaqin and reach Akraptor. Hoaqin, acknowledging Viole's potential, then launched an attack meant to eliminate him only for it to be stopped by the clone. The clone called Hoaqin out on his unchanged nature eliciting him to ask what she knew about him. The clone then revealed its true nature, shocking him.
The Hell Train: Floor of Death
After the events of the Dallar Show, Hoaqin decided to follow Rachel to the floor of Death to get her the thorn when she stated she would help him to get his original form of White. When they reach the 43rd Floor, The Floor of Death, Rachel and her crew get ready to exit the train, with Hoaqin being told he could leave the train, as there's no administrator on this floor. Hoaqin hid himself and Rachel inside the suitcase of Ha Yura, while Karaka would bring them with him once reaching their destination.
After getting out of Ha Yura's suitcase, Karaka suggested that Hoaqin could eat all the souls of the floor of Death to regain his old self. Hoaqin, Karaka, Rachel, Wangnan and Yura head to the Spirit Room where he could eat all the souls until Karaka found out Yura and Rachel had deceived them. Before Karaka could attack Yura to find the whereabouts of Rachel, he was interrupted by the appearance Urek Mazino. Overwhelmed by Urek, Karaka detonates his body to buy them enough time to escape while Hoaqin ran away from Mazino with him. Hoaqin finally reached the Spirit Room accompanied by Karaka where he began countering the spell keeping the souls trapped on the floor. After absorbing all of the souls of the floor, Hoaqin became an imperfect form of White. After destroying the last gatekeeper, Hoaqin and Karaka were confronted by Po Bidau Gustang. Hoaqin soon discovered he was incapable of leaving the floor due to the curse placed upon the souls preventing them from leaving now affected him. Gustang eventually removed the souls from Hoaqin returning him to his previous form before he and Karaka made their escape.
Powers and Abilities
Despite only being one part of White's constituency, Hoaqin has still been shown to possess incredible power. Before being sealed on the train 600 years ago, he was strong enough to kill all of the D-rank Regulars on the Hell Train except for four survivors.[10] Boro said that all the D-rank Regulars would fall to hell if he wakes up, implying that he is far stronger than any D-rank Regular,[4] and this was later proven to be true during his brief performance at the Wooden Horse station.[11][12] Ja Wangnan called him a monster after witnessing him complete the 36th Floor test of the Hell Train by himself.[13] Later, when the train arrived at the Wooden Horse station, he caused an impressively large amount of damage from a single swing of his sword.[11]
Hoaqin is a being who seeks souls and feeds on them;[14] as a result, he gets very hungry when he goes a long time without feeding.[14] As a result of staying awake, Hoaqin must continually consume souls to live on.[9] It is shown that those he personally kills sometimes evaporate, implying that he absorbs their souls into himself.[11]
According to SIU, the source of Hoaqin's power as White is his final clone. Without it, no matter how many souls he consumes, he's still nowhere near as powerful as his golden age as White. [15]
Enhanced Strength: He seems to possess incredible physical strength unbefitting of his small stature, as shown by the way he effortlessly wields his giant sword. According to a mysterious voice talking to Baam, though, this may also be because of the sword actually being "space itself controlled by Shinsu".
Master Swordsmanship: Hoaqin is a practitioner of Arie swordsmanship[1] and has shown skillful usage of his giant sword, being able to wield it with ease. He has a very aggressive style, putting an emphasis on offense and completely crushing his opponent.[7] Before he became a Regular, Vicente labeled him a 'genius' of the sword as he was able to defeat almost all of his other siblings in swordplay.[7] He managed to slice through Wangnan's arm, without cutting it off completely, before the latter even realized what had happened, showing great precision and skill.[16] Hoaqin can also launch powerful Shinsu-based slash attacks capable of causing incredible damage.[11] According to SIU, Hoaqin has no usual disadvantages a long sword would have, such as blind spot, this being more to do with Hoaqin's skill rather than the sword itself.[17]
Shinsu usage: Hoaqin has been shown to be able to form a very big baang of white energy with overwhelming power, easily defeating two FUG agents.[12]
Semi-Perfect White
After absorbing three of his four siblings, Hoaqin displayed the following powers and abilities:
White Style: Spirit Sword (화이트류 원령검, Hwaiteu-lyu Wonlyeong-geom): White used to be a FUG Slayer from the Arie Family, who developed his own style based on his knowledge of the Arie Swordsmanship.
Shinsu control: He was able to offhandedly extinguish Yihwa's flame.[20]
Notes And Trivia
His name is assumed to stem from Spanish footballer Joaquín.
He made some sort of contract with a Floor Guardian (or multiple Floor Guardians) that is only valid inside the train.[11] It is implied that something would happen to him if he left the train before becoming 'complete' again.[11]
Gallery
Quotes
References