Cobra Kai Season 4 - The Loop
Play Sound
52F - A Dark Twist (11): This is the ninety-two chapter of Volume 3 of Tower of God.
Synopsis
Gallery
Characters
Blog Post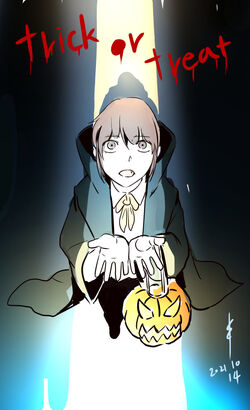 At the English Academy, in the cafe building next to the office, when I saw that they had put out pumpkins, I thought today was Halloween. But after I drew a picture for Halloween, it turned out that Halloween was next week. Since I don't participate in events with the "in" crowd due to the fast paced work life I live… heh heh… I'm thinking if I can slow down a little next week to draw another Halloween-themed character…
Not really related to my uploading schedule, but today was a strange day. I can't tell you guys too much as it's something personal, but something I had done with good intentions caused problems, and to fix those problems, I made some sacrifices, came back tired, got no rest as I worked more, and I found myself a little sad because of it. At times like this I find that what I intend and what ends up happening often end up conflicting.
In life, a lot can happen, but that also means there are stressors that you can't unload anywhere. The best I can do is to swallow it as much as possible and think happy thoughts. Now that was a pretty depressing story, but regardless, you should think that if bad things happen now, good things will come eventually. That's what I think.
After a long day, I should get going to my very late first meal of the day. As I live day by day, I find myself wondering why it can be so hard to live sometimes. Perhaps I'm overthinking what should be an easy life. I hope you guys live a very easy, very relaxed life with a healthy serving of luck. A blessed day after a blessed day. I will work hard too.
Thank you. Be healthy, be happy, And I'll see you next week.[1]
Reference