Cobra Kai Season 4 - The Loop
Play Sound
52F - A Dark Twist (6): This is the eigthy-seventh chapter of Volume 3 of Tower of God.
Synopsis
Gallery
Characters
Blog Post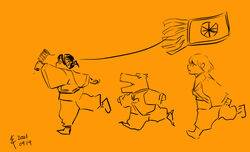 Hello. This is SIU, who's not dead, coming back this Monday. Today is the second day of the Chuseok Holidays.
As I had to stay at the hospital for a few days this week, this holiday may be a bit busier than usual. I ended up having to make my staff work during the holidays, so I'm sorry for that too. I feel like I've fallen short all around.
I got my results back this week, and thankfully it's something that I can get better from by just taking medication, I'm a lot better now. I was told to reduce some stress, so I tried reducing anything that could cause stress outside of work. But since I had to get examined and I was almost unable to use one of my arms for a whole day, the amount of work being published was short this week (for the previews). I'm already aware of my shortcomings, but since now I'm also putting out less content, I feel very sorry for my readers. I'm sorry, these are difficult problems, but I will try to be better at my shortcomings and self-care.
I hope everyone enjoy the extended Chuseok holidays, stay healthy as you enjoy this holiday, and I will be back next week.
Have a peaceful and happy week. Thank you,[1]
Reference