Spider-Man: No Way Home Trailer Dropped - The Loop
Play Sound
VS. Kallavan (2):  This is the sixty first chapter of Volume 3 of Tower of God.
Synopsis
TBA
Gallery
Characters
Blog Post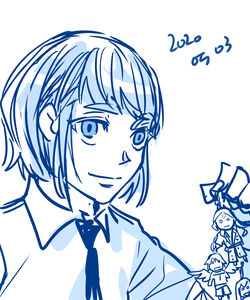 Hello, this is SIU. Today for my doodle, I drew Khun, who got the biggest spotlight despite everyone else doing the fighting. Khun is a character that is very efficient with his movements it seems.
Sometimes, I get asked if Khun's the smartest among the Regulars, and I remember in my lore that while Khun is good with situational awareness, so he is good at planning moves ahead or using his opponents against themselves, while Ship Isu is much better at studying. Khun's an elite, but Isu seems to have a lot going on for him too.
The weather is getting hot, but I think this time of the year when it gets really hot is the best time for people to be out doors. In Korea, the corona virus seems to have calmed down, but it worries me that it's still in full swing globally. I hope all of you are staying well.
Actually, I had things to do during the holiday, so I was outside for a bit, and suddenly I got a double nosebleed, which hadn't happened ever in my life before (...) This week, my insomnia's gotten pretty bad to the point where I only got a night or two's worth of proper sleep. My body was already exhausted, but it was a mentally taxing week as well. I bought myself a running machine in my house with big money, so I will try to work out more and try to rejuvenate myself. I will leave the afterwords short here today.
These days, (myself included), a lot of people want to be more happy. I hope rather than sadness, people find happiness, joy, and health.
I will be back next week with a now-emboldened White. I hope you enjoy the anime on Wednesday as well.
Thank you
Have a good week.
Khunight
[1]
Reference