Cobra Kai Season 4 - The Loop
Play Sound
VS. Kallavan (1):  This is the sixtieth chapter of Volume 3 of Tower of God.
Synopsis
TBA
Gallery
Characters
Blog Post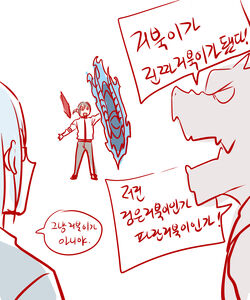 Doodle:
Rak: The Turtle is really a turtle now! Is he a blue turtle or a black turtle?
Khun: He's just not a turtle.
Blog:
Hello, this is SIU. This week's doodle: [Korean meme I can't translate]
... My apologies.
It's already the last week of April. Now that I think of it, it was last year that I started Season 3, and now even Season 3 is a year old. Time sure does fly. It's flying for both me and this work.
Last week, my health was really terrible, but I'm doing better this week. I was doing catch up work last week, skipping meals, and having lower quality sleep. I think this is just an occupational hazard of a webtoon writer. I've been eating a lot of healthy foods, and I think "living a long life" is a pretty good life goal too haha.
Writing just a little bit about this week... when I saw Baam's new blue thing, it made me crave soy crab for some reason, but ever since the corona, I haven't been able to eat soy crab. I can order other foods online, but not soy crab. It creates too much trash, and since I live alone, having trash means eating up a lot of inventory space I can't afford to use. Anyway. I want my soy crab. (what the hell am I talking about)
So the metamorphosis that Baam uses is actually a bit different from the metamorphosis used by the Houndborn, so it's not really a transformation like it is in the Houndborn, but Baam utilizing the principles of it to use his powers within.
Anyway, our children are fighting hard on the battlefield. Tower of God as the webtoon has a bigger scale for the side characters than for the mane characters, so regardless of how the story progresses and how big a battle they fight, the kids end up looking like kids. I think that's a good thing.
Now that I think of it, I sometimes go "Is it just me that as I get older I also get weaker," but when I also think about whether I've done my best for this work and my kids, I have many regrets on that front too. I should do better.
I'll leave it a wrap here today, and I'll be back next week. Of course, you'll see the kids one more time on Wednesday with the anime. I hope you enjoy the anime, have a happy and healthy week, and Baam will come back next week with his crab shell with me.
See you next week
Thank you!
[1]
Reference