Spider-Man: No Way Home Trailer Dropped - The Loop
Play Sound
A Rough War (3):  This is the fifty-eighth chapter of Volume 3 of Tower of God.
Synopsis
Lefav cheers as she successfully shot Evankhell and her possible promotion in rank. However, Evankhell's right hand twitched.
Khun yells at White because Kallavan arrived his recharge is taking too long. White tells him to calm down and rushing could ruin the plan.
In another area, Paul and Doom continue to fight against Dokoko and his Windbird. Paul charges at Dokoko, but he uses his Wide-Range Skill - Blood Shards. Doom is noticing Paul charging in, ignoring the pain, which is why he's worried. Doom remembers that their father urged them to run because Yasratcha's bloodlust. That night, he snuck into the training camp and ran away with Paul and Yama. Before Dokoko's could reach Paul, Doom blocks it with his back, which bring Paul back to his senses.
Dokoko takes off his helmets and warns them about the threats of Zahard's Army--the other branch family heads, the 4th army corp commanders (Kallavan and Lyborick), Maschenny and Yasratcha. After hearing that Yasratcha is behind the wall, the Canine people become filled with bloodlust knowing that they could achieve vengeance. Yasratcha is happy to see this as he observes the battle.
Paul unleashes a Partial Transformation and he and Doom charge at the windbird. The bird transforms into wind, which was contained by Paul's Shinsu. Doom was able to get close to Dokoko and deliver a killing blow. However, it seems that Dokoko merged his consciousness with the windbird.
Lefav's observer begins to ping as something seems to have moved. Evankhell, who is heavily injured, is hiding in the debris of ships. In a flashback, Hockney warns her about a sniper bullet. Right at that moment, Evankhell used her flames to change the bullet's trajectory, letting her survive. Angered, Evankhell decompresses her body.
Gallery
Characters
Blog Post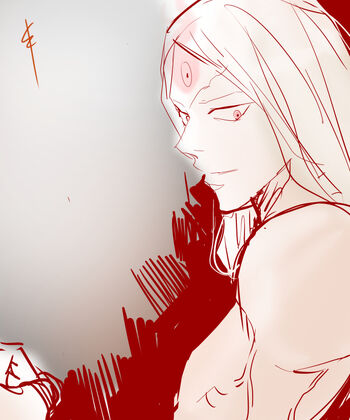 Hello,
This week's doodle is muscular form Evankhell. Although it is the case with Rak too, it seems that there's a lot that compress their bodies under the authorization of an Administrator. I wish I could compress all the fat I've been gaining recently hehe.
Continuing from last week, I'm not feeling good today and I have some work left to do, so I'll keep the aftwerwords short. I am truly grateful for all of my readers, including those who cheer me on, tell me good things, and even those who give me bitter words. Next week I'll try to get better so I can meet you in better health haha. I hope that one day I will be able to write that I've never felt better. Won't be easy but I'll try.
In these times, everyone should encourage one another, be each other's strengths. I hope you all have a happy and healthy week. I will be back next week with the muscular warriors of the battlefield.
Thank you
See you next week ^^
[1]
Reference