Doctor Strange in The Multiverse o Madness - The Loop
Play Sound
The Intrusion (3):  This is the fifty-fifth chapter of Volume 3 of Tower of God. It follows the battle at The Nest
Synopsis
TBA
Gallery
Characters
Blog Post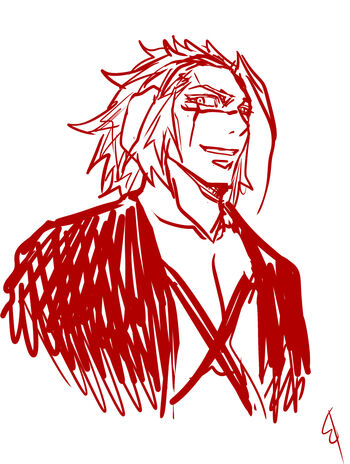 Hello, this is SIU _ _
For this week's doodle, I drew Paul. Personally, I think the name Baylord Paul is a "green" name (I'm not sure why tho). Since he's the youngest brother, it's very different to see him interacting with others and interacting with his brothers: In front of others he is a scary High Ranker, but when he's with his brothers he's absolutetly harmless and gets scared easily. He's that kind of a character.
With that incident from last week, I decided not to talk about the contents of the chapter in the blog posts, at least for the next few weeks. Actually I've been very busy these days and the uploads are going pretty tight, and now that with the newfangled preview system there is a delay between the main chapter too, so I think rather than make room for mistakes again, I'll just keep the blog short, talking about the work in general, or news or simply how I'm doing. If you were looking for lore, I'm sorry. But because I have a few bits of news incoming, so it won't be boring for you guys either hehe.
Since weekly release is very time consuming, a lot of things end up happening hehe. If you think about it, I don't know how much of the time I spent while uploading this actually for myself... And even if I spend a lot of time, it doesn't always produce the best work. Haha... it can be shortcoming at times. An author doesn't just write or draw, but he also has to be one in charge of managing the studio, contracts, copyright issues, issues that arise with the assistants.. a lot of complex things. All of this problem solving and hard work over the span of the week is what gets passed to you guys, and that is what keeps you guys happy and gives everything value. Not easy though haha.
It's fun to draw High Rankers fighting each other, but that's so much more work. I have to differentiate the types of Shinsu, the transformations for various characteres... Although the actual lore and the visuals can end up being different, I still want people to be able to get "this is a High Ranker".
And this week, I still suffer Esophagitis that pretends to be pharyngitis heheqq. When I talked to my mother about my health, she told me that father ended up having a major bout of illness after my symptoms. "Why are you taking all the bad things after him"(...) She told me that I need to live without being stressed, but that's not easy. Anyway, a lot of you have been giving me advice on the solution, so I've been trying this and that. Thank you _ _
Anyway, all of you, I hope you guys stay healthy and happy, especially during these times when COVID 19 makes the entire world suffer. I will wrap it up here (I didn't make any mistakes here, right? hehe)
Well, then next week, I will come back next week with Paul on the battlefield and Baam.
See you next week!
Thank you this week too!
[1]
Reference