Spider-Man: No Way Home Trailer Dropped - The Loop
Play Sound
??F - Hell Train: Tomorrow (1): Data Zahard complements Hwang on the completion of the arena, it is one hour until the match between Twenty-Fifth Baam and Data Zahard.
Khun Aguero Agnis meets with Hwang and takes on the grand quest alone, while Baam and the rest get ready for the match. Khun easily kills the villain, which lets him and the rest travel to the next stage where the match is taking place. Inside the arena Baam and Khun Eduan take an elevator up to meet Data Zahard, while all the others take a elevator up to where Rachel, White, and Traveller is.
When Baam meets with Data Zahard at the top of the arena, Zahard explains the rules of the match: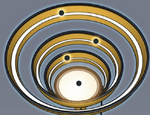 There are four cores within the three rings around the arena and the middle of the arena itself.
At least three cores must be destroyed to win.
Falling of the arena or flying outside the third ring is considered fleeing and is an instant loss.
Data Zahard ask if they should start their duel.
Gallery
Characters
Blog Post

Hi, this is SIU.
 

The weather.. is the kind of the weather that you can describe as refreshing or cozy.
Although there are no stars in the tower's sky,
when the light of the ceiling dims down,the ball lights start to twinkle.
I was hoping that Rakhunbaam would play fireworks while the weather is refreshing,
and came up with this drawing.
It feel a bit different since it is a ceiling, not the night sky.

This week..
Continued from the last week,
the episode featured the process of them getting to fight with data Zahard.. Khun seems to be more grown in many ways, and so does Baam.
From the next week, they will finally get to fight with data Zahard.


Tower of God, actually,
is a work that shows the process of main characters meeting with stronger opponents,
And overcoming such challenges,
Thus the main characters always continue to train and work hard,
and look upward to climb higher..
It's that kind of the work in my mind.
Because of that, they are frequently having a hard time.
I want to see characters getting stronger and stronger, and be more complete.
Of course, at some point, they will become immensely strong,
and it will make them charming in another way.

Anyway, I think Baam will be closer to himself after this.
His battle with data Zahard, of course, has a slim chance of winning
But I hope you will look forward to the process and result.


As the spring comes and goes, many things happen in between
And many thoughts pass by my head as well.
Every week, I try to meet you again with the best of my work,
but sometimes it does not happen as I wish.
Coming up with exciting Manhwa every week,
is my job, goal, and satisfaction.
If the readers are not satisfied by it, I, too, cannot be satisfied
So I spend much more time thinking about interesting Manhwa than others might think of me ^^;


Once my head cools down a bit, I hope that I feel lighter with my body, too
So please look forward to the battle that will be starting next week
And take care of both your physical and mental health when the season is changing
Thank you.


I hope you are happy ^^
[1]
Chapter poll Result
| Rating | Votes | Percent |
| --- | --- | --- |
| 💖💖💖💖💖 5/5 | 21 | 72.41% |
| ❤️❤️❤️❤️ 4/5 | 7 | 24.14% |
| 👍👍👍3/5 | 1 | 3.45% |
| 😒😒2/5 | 0 | 0.00% |
| 😠1/5 | 0 | 0.00% |
| 💩💩💩💩💩0/5 | 0 | 0.00 |
References