The Sandman Will Keep You Awake - The Loop
Play Sound
??F - Hell Train: Training (10): This is the two hundred and ninety-seventh chapter of Volume 2 of Tower of God.
Synopsis
Hwang fills in Data Mazino in on the developments and tells him to wait until the preperations are complete
Khun Aguero Agnis and Rak Wraithraiser shows off their new skill to Twenty-Fifth Baam, which Baam is impressed by. Meanwhile Phonsekal Irure looks over her sworn enemy saying he got what he wanted before finishing him off. Khun Eduan takes Baam inside a stone sphere where he will perform revolution on Baam, so he can find the source of his power.
Everybody are preparing for the showdown between Data Zahard and Baam, until it is only one day left.
Gallery
Characters
It's not tomorrow, it's next Monday.[1]
Blog Post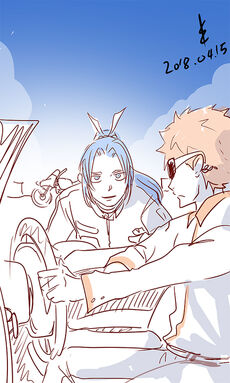 Hi, this is SIU.
 

The drawing for today's postscript..
Since this time of the year (originally) is good for convertibles and driving,
I drew data Zahard and Eduan who are taking a little break during driving.
Since I mainly work indoors, I like to drive to a quite place when I have some free time
Around this time is really the best for driving with open windows..
However, because of the dust in the air, I can't even hope to do that TT
Well, in return, I can now say I don't buy a convertible because of the fine dust,
when in reality I can't afford it ha ha.

Anyway, let's keep it short for this week..
-See you next week-
… Sometimes there are episodes like this..
How can I put it, there are episodes where the real beginning starts in the following week.
There are episodes like that yeah yeah.

Still, it had somewhat important stories.
Irure is still left with some unsolved conflicts
And data that is expected to be Mazino's looks has something he is waiting for..
Khun and Rak are training hard
Yellow and Icarus seemed to have a some kind of conversation
And it seems that Baam got a new power, too..
Anyway, I think it will get interesting ha ha

As for my personal story..
My stress gastritis relapsed during the weekends..
The period in between is getting shorter and shorter.
Maybe this is a quite dangerous sign. TT
Anyway, I will visit the hospital and become healthy again.

So thank you for coming today to read the postscript, and reading my lacking webtoon
I will try to see you again next week with interesting webtoon^^
Take care, and have a good week!
Thank you.

-I made a joke about view count, that it would be good if I can have more of it;
but many people took it serious and gave me cheers, so I deleted it
This is something that I have to work for,
and not something that can be solved by receiving cheerful comments from others,
and I initially did not expect to have such response
I will try to better take care of my health and make better manhwa,
and raise the view counts ha ha


Have a good week
[2]
Chapter poll Result
| Rating | Votes | Percent |
| --- | --- | --- |
| 💖💖💖💖💖 5/5 | 32 | 100.00% |
| ❤️❤️❤️❤️ 4/5 | 0 | 0.00% |
| 👍👍👍3/5 | 0 | 0.00% |
| 😒😒2/5 | 0 | 0.00% |
| 😠1/5 | 0 | 0.00% |
| 💩💩💩💩💩0/5 | 0 | 0.00 |
References