Spider-Man: No Way Home Trailer Dropped - The Loop
Play Sound
43F - Hell Train: The Floor of Death (26): White recognizes the Family Head as Po Bidau Gustang.
Gustang realises that White took the souls. White tries to leave as Gustang lets him pass through but he can't. The Family Head explains that by taking the souls, White bound himself to the Floor, because the souls have a curse that don't allow them to leave the Floor of Death. Gustang takes the souls from White and says to him that he won't take his life.
Urek Mazino gets to where Po Bidau Gustang is and ask him to hand over the souls because his friend is one of them. Gustang give the souls back to avoid a confrontation with Urek.
Po Bidau Gustang recognizes Baam and calls him Son of Arlen and reveals that he waited for Baam for a lot of time.
Chapter ends with Rak staring to his prey.
Gallery
Characters
Blog Post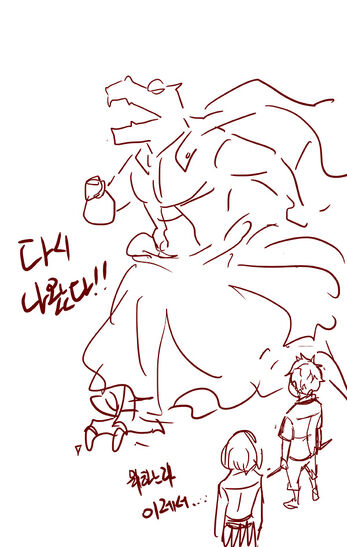 After two weeks.
Here is the afterwords of Volume 2 Chapter 257.It was really an inevitable break more than an hiatus.
Like how everyone else gets a holiday authors need break days too...
I didn't get that much rest really ^^;
maybe a day...
I know you guys were waiting so hard for it,
but I didn't get that much rest
ㅠㅠ tears...

We have a Ten Family Head here.
A bit more story about White's out of the bag as well...
White is an incredibly big yet incredibly small character.
A powerful Slayer fallen to the realm of Regulars.
A High Ranker in the world of Regulars.
I wanted to create such being,
and in order to make him fall in line with the power curve and make the setting not self-contradictory
I gave him the ability to collect souls to become stronger,
and in the process I also gave White/Hoaqin a narrative of a son who despite his extreme power always will feel short of his father.
He's also a character that embodies the Tower's conflicts.

We'll get more stories on the 10 Families and their Slayers.
A lot of you probably already guessed,
but most Slayers have a 10 Family Head/Zahard they target specifically.
Karaka targets Zahard,
White targets Ariye,
and so on and so forth...
I hope you guys enjoy the other Slayers and their conflicts with the 10 Famlies ^^

When Gustang saw Baam and said that
"There's is one who may stand among us yet",
he's not talking about just power.
It could be interpreted as an expression of how there is another one who has opened the gates of the Tower...
Irregulars are special beings.

Gator's back.
Where he is, what stories are to unfold...
keep an eye on that.
What stories will unfold next...
I'll do my best to draw it to the best of my ability!

(For the Previews)
I'm going to take things slowly because of my back.
But lots of new content awaiting us.
So I hope you guys enjoy the slower pace ^^
If I get too tired I can take a break ag-(is punched)

Thank you for enjoying this week's chapter.
Have a good week and I will see you in the next one.

Thank you!! (Requests of sports team uniforms + characters will be taken again starting this week)


[1]
Chapter Poll Results
| Rating | Votes | Percent |
| --- | --- | --- |
| 💖💖💖💖💖 5/5 | 49 | 96.08% |
| ❤️❤️❤️❤️ 4/5 | 1 | 1.96% |
| 👍👍👍3/5 | 0 | 0.00% |
| 😒😒2/5 | 0 | 0.00% |
| 😠1/5 | 0 | 0.00% |
| 💩💩💩💩💩0/5 | 1 | 1.96% |
References