43F - Hell Train: The Floor of Death (13): Baam, Mata and Hockney are in front of the gate. Mata doesn't want to proceed and argues with Hockney. Meanwhile Rachel runs off to them and forbids Baam to proceed forward. She says that Hoaqin and Karaka will catch him so he should run away from there.
The scene changes to before Yuri's arrival. Karaka and Hoaqin discuss about going to the Spirit Room to obtain souls while Rachel finds out Hockney's location, and all of them head towards the Spirit Room. Together with Yura, Rachel deceives them and runs off to arrive there before Karaka and everyone else.
In spite of hearing her out, Baam heads towards the gate. Rachel then becomes desperate. They have an altercation, and Baam states his goal to open the last door to the final Floor of the Tower. He then tells her "goodbye", appearing to turn his back on whatever friendship they had before.
Together with Mata and Hockney, Baam leaves Rachel behind to finally enter the Spirit Room but Rachel charges in as well. They then meet Grand De Jah and Grand De Lee. De Jah mentions that his "eyes" have come. He allows Baam to take the test, alongside an insistent Rachel, who claims to be as worthy as Baam to take it.
Gallery
Characters
Blog Post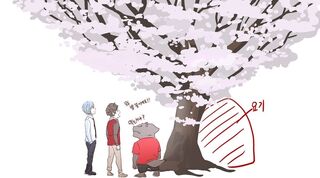 Hello, this is SIU!

Starting this week I'll be doing the cherry blossom requests for the next few weeks ^^
The first request is by "그림쟁이", which is simply RaKoonBaam at a Cherry blossom festival.
If you send me requests for something to go in the shaded spot,
I'll pick something funny or creative and draw it there next week! I hope you guys join in ^^

I wasn't doing too good this week either, and weekend I had a lot of events occur so it wasn't very good.
I keep wishing for good things, but world isn't a easy place. As I get older more events that difficult to accept occur. I try not to let that affect my work but it shows when I'm tired, physically or emotionally.

So... this was a lot of panels. This arc in general was a lot of chapters, but this one had more...
I was thinking about splitting this chapter for a bit, although it did end up merged.
I was hesitant until I hit send to the editors. I had doubts whether this was a good idea,
thinking perhaps splitting it would give more thinking time ^^;

Since a lot of you read on mobile, if it's too long, people actually feel overwhelmed about the content...
Especially large-scale fantasy webtoons like Tower of God, I have to spend so much time on unfamiliar concepts... I envy those of you who write in the slice of life or school-shōnen genre.
Since those of you on the blog read carefully so may be already thirsting for more hehe but that's overwhelming in a different manner hehe. (But I will have to slow my pace because health concerns ^^;)

Regardless ^^;
This chapter's focus was Baam and Rachel. Baam's changes... they're starting to surface. I hoped that since Garam and Baam's conversation was for this scene Baam's feelings afterwards would be shown well here. And this also brings up the question: where was Baam and Rachel in the past? The plot thickens.

On the relationship between Baam and Rachel, there will be a lot of events, so keep an eye on it ^^.

Hell Joe's become really popular. Everyone wants a piece of him. I guess Hell Joe is arc villain confirmed hehe. Against his looks, Hell Joe is extremely powerful. It's just that he had a joke character image from his introduction ^^;;
He'll seem more villainous as we go. Well, I hope you're excited for what's to come ^^
and have a happy and warm week! Thank you!

See you next week ^^[1]
Chapter Poll Results
| Rating | Votes | Percent |
| --- | --- | --- |
| 💖💖💖💖💖 5/5 | 36 | 80.00% |
| ❤️❤️❤️❤️ 4/5 | 6 | 13.33% |
| 👍👍👍3/5 | 3 | 6.67% |
| 😒😒2/5 | 0 | 0.00% |
| 😠1/5 | 0 | 0.00% |
| 💩💩💩💩💩0/5 | 0 | 0.00% |
References