Doctor Strange in The Multiverse o Madness - The Loop
Play Sound
Yuri Zahard: "Just like Urek, this Wiki is the best place to work at, but has the worst pages to work on!"
This article is a stub! You can help Tower of God Wiki by expanding it.


Further discussion should take place at this article's talk page
Tyrant of the Fish Tank - Trughe (어물전의 폭군 트루게, Eomuljeon-ui Poggun Teuluge) is an intelligence Shinheuh, a gigantic crab that was captured, subdued or "dominated" by Lo Po Bia Yasratcha.
About
Trughe "the crab" is sentient, he has personality, conscience, can talk and communicate. The giant crab was sent by Yasratcha into The Cat Tower and assigned him to play the Cat Tower Fishing Game inside the Cat Tower Control Room. The giant crab claimed himself to be the King of the Sea. Yasratcha promised to release him back to the sea if he can win the game and trap several enemies from FUG inside the cat tower during the Battle of The Nest.[1]
Appearances and Personality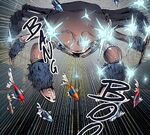 Trughe is a gigantic crab with dark blue gray furs on its eight legs and two claws.
Powers and Abilities
Physical
Despite his gigantic body size, Trughe can move very fast. He has good agility and can react fast to block attacks from the enemies. Trughe can easily block Rak's spear, the Mad Shocker with just one swing of it big claws.[1]
Trughe can produce shinsu bubbles from its mouth. He has amazing control over this skill and can use it to kill specific fishes that he desires. Trughe used shinsu bubbles to kill all "Red Fishes with Triangle Symbol" at the same time in just one attack.
Gallery
References