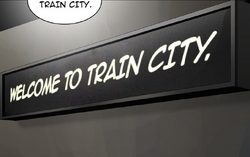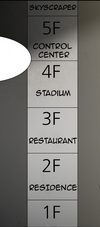 Train City is the first station of Hell Express in the Tower. It's located on the 35th Floor. The Hell Express departs from here. In it's most recent incarnation, Regulars that arrive at the Train City will encounter an elevator that leads to six different floors; this elevator operates one by one.[1] The six floors are:
First Floor (1F) - Entrance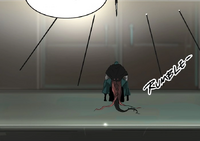 This floor is protected by a semi-illusory guardian named "Mirotic" who prevents people from entering through a door before the chosen time.[2] Beyond the door lies the first gate to 'Helix Stairs' which ultimately leads to 'Platform Skyscraper' and the Train.[3][4]
Second Floor (2F) - Residence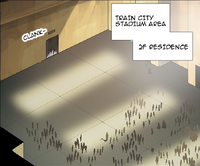 This floor has many rooms (there are assumed to be 100 rooms), each with a number that corresponds to the number of an Express Ticket; entrance into a room is possible only if the Express Ticket number matches the room number. As such many Regulars wait for Ticket Holders to either leave or enter a room so that they can steal their Express Ticket. Any number of non Ticket Holders are allowed to enter a room along with a Ticket Holder once the room door has been opened.
[5]
The game "The Last Seven" was held here.
[6]
Third Floor (3F) - Restaurant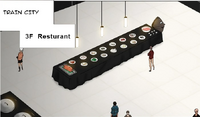 On this floor there is a restaurant section where Regulars can dine in comfort.
[7]
There is a secret path from the Restaurant that leads to the real Control Center.
[1]
Fourth Floor (4F) - Stadium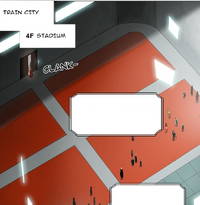 An area holding stadiums for which battles can take place. In the recent events, the tournament (created by
Rachel's group
) was held here.
[8]
Fifth Floor (5F) - Control Center
A control center where events taking place around Train City can be managed. It can be left to operate automatically using a computer program.
[4]
It's later revealed that this Control Centre, that can be reached using the elevator from the platform, is in fact fake.
[1]
Six Floor (6F) - Skyscrapper
Like the 5F Control Center, this Skyscraper, that can be reached using the elevator from the platform, is in fact fake.[1]
There is a second elevator, which can be found in the real Control Centre, which travels to the real Skyscraper. However, ordinary Regulars cannot use this elevator unless they are 'approved'.
[1]
Images Gallery
References
Community content is available under
CC-BY-SA
unless otherwise noted.