Jurassic World: Dominion Dominates Fandom Wikis - The Loop
Play Sound
Tonki (톤키, Tonki) is a Ranker from the Age of Genesis and a member of the Land of the Peach Blossom, one of The Five Flower Nation. He was killed by Kallavan in his duty as one of the guardians of the sealed hero tower at the Wall of Peaceful Coexistence.
History
Before he got his memory erased by Dowon, Tonki was the only person in the Land of the Peach Blossom Kingdom who protested and was opposed to Dowon's sacrifice to be sealed at the Wall of Peaceful Coexistence.
After Dowon erased people's memories about her, Tonki also forgot about Dowon. He was assigned to guard the sealed hero tower at the Wall of Peaceful Coexistence due to being a descendant of the flower kingdom. He guarded the sealed hero tower without even knowing why. At first, he planned to quit as the guardian, like other rankers had to live a more prosperous life, but after seeing Khane's strong dedication and determination to always visit the sealed hero tower to meet her sealed sister (Dowon), Tonki was curious about the identity of the sealed hero. He then made an oath and promised himself that as long as Khane never ran away or gave up on her sister, and kept coming to visit her, he would keep guarding the sealed hero tower.[1]
He has known Khane for quite some time, given how they interact with each other.[2] However, their exact relationship is unknown.
Appearance and Personality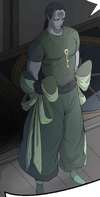 He has blue-grey skin with very pointy ears. His eyes are black and he has dark blue hair. He wears a dark green shirt, dark green loose pants and a key necklace. There is a red tattoo on his forehead. He has a giant light green ribbon attached on his waist. He is quite muscular.
He is loyal, serves justice, has a good heart, has a strong passion and determination against uncertainty.
Image Gallery
Powers and Abilities
Although Kallavan can defeat him effortlessly with just one direct punch to his stomach, Tonki is still a high ranker level individual,[3] so he is very strong. However, Kallavan is on a whole different level and was just too strong for him to handle.
Stone Fireball: Tonki creates a big stone fireball on his right hand and prepare it to attack Kallavan. Old ranker knew how to use Shinsu more suited to their attributes.
Quotes
References