This page is about the special event called the "Workshop Battle". If you were looking for the mega arc, go here instead.
The Workshop Battle is an event held on certain Floors of the Tower.[1] The one held on the 30th Floor occurs every five years and is a tournament that employs individual skills in combat and mainly teamwork in battle, focused on E-Rank Regulars that confront each other in order to obtain goods provided by the Workshop.
Events
One Shot, One Opportunity Game
All of the Regulars that arrived on the 30th Floor were forced to participate in the One Shot, One Opportunity Game to get a ticket on to the Archimedes, which was where the Workshop Battle took place. There were only 248 available tickets.
Rules
Every person is given 1 bullet in the beginning. With this bullet, they may shoot another Regular to get a ticket and ascend to Archimedes, passing this game. This bullet is known as the Dark Bullet.
If a person is shot by someone with the Dark Bullet, they are disqualified.
People can also steal bullets from other individuals. Anyone who has their bullet stolen is automatically disqualified.
If a bullet is stolen, then the person who stole it has two options. They can switch their revolver between two modes - Light mode and Dark mode. If they switch their revolver to Light mode, then whomsoever is shot by them will automatically get a ticket and ascend to the Archimedes. As such, people can steal bullets and shoot teammates who are disqualified so that they can get a ticket and pass. A maximum of six bullets can be stored in a gun.
Regardless of how many bullets a person has, if a person misses a shot with a Dark bullet, they are disqualified. However, this is not the case with Light bullets.
The first person to shoot someone with the Dark Bullet gets the Blood Tamara weapon, which they can use in the upcoming Workshop Battle. The person who shoots the most people with the Light Bullet will get the White Heavenly Mirror, which is another weapon usable for the upcoming Workshop Battle. Anyone who is able to shoot the wandering Bong Bong will get a "special item" as well as a ticket.
If any non-participant is shot or harmed, the participant who shot/harmed that person will be disqualified.
Notable Occurrences
Ship Leesoo's Team failed to defeat and kill the FUG Team. Regardless both teams managed to proceed to the next stage.
Every notable character made it.
Game of Plug
First off, 10 Gamblers must be chosen. These 10 are chosen because they have scored the highest in the previous game. A Gambler's effect in the Workshop Battle are as listed:
For the First Round, they will bet "money" (points) on a certain individual for them to win. Each individual is rated before he/she battles. As such, if a Gambler bets on an individual who has a low chance of winning, and that person does end up winning, the Gambler will get more points than if he/she bet on someone who has a high chance of winning. If they succeed, they get points. If they fail to predict right they must lose points. Each Gambler starts with 500,000 points.
In the end, before the Second Round, the 6 Gamblers with the most points left will not be disqualified and will participate as Team Leader for the Second Round, while the other 4 are permanently eliminated from the Workshop Battle.
By the end of Round One, with the amount of money they have, the 6 remaining Gamblers get to use it to select all of the Regulars that have made it thus far to create a team of their own. With this Team, the Gambler will also use the rest of their points to buy several weapons and items for the Team to use in the Second Round.
In the last round, the Gamblers have the option to go "all-in", that is, they have the option to place all their money on one contender. If they manage to win, then they will get back 3,000,000 points. It is a high risk, high return situation.
There are 2 Rounds in the Game of Plug:
Individual Round: In the Individual Round, 8 randomly selected (or more so 4 from each of the two teams) Regulars will be pitted against each other. The main goal is to get their given "Plugs" and plug it in one of 3 holes in the centre of their battle arena. The 3 people that are able to fill the 3 holes will pass this test and make it to the Team Round. As such, only 3 people are to win out of the 8 chosen in each match.
Tournament Finals: Anyone who passes the Individual Round will participate in this Round. The 6 Gamblers with the most points shall use their remaining points to bid on individuals to be placed in their team. The Gamblers, now as Team Leaders, can also use their money for purchasing items to use in battle. The Winning Team will be the Workshop Battle Winners.
Gamblers:
First Round: Individual Matches
Io
accepted this rule.
During the last round, eight out of the ten gamblers chose to go "all-in" on either Koon Ran or Anak Zahard, hoping to get 3,000,000 points. However, due to Parakewl's interference in their battle, both of them ended up losing. As a result, eight Gamblers were "knocked out" and only two Gamblers passed the round - Reflejo (FUG's representative), with 500,000 points, and Ron Mei (Team Mad Dog's representative), with 1 point. Koon and Leesoo argued with Io, stating that Parakewl had interfered with Anak and Ran's match, hence it was a violation of the rules. Io had no choice but to acknowledge this and so, a new event was hosted. This event was called the Developing Tournament.
Development Tournament
Main article: Development Tournament
In this tournament, an Underwater Arena was divided into two sides: The North Side, where FUG and Team Mad Dog were to fight, and the South Side, where the 8 remaining Gamblers were to fight. There would be two winners, one from the North Side and one from the South Side. They would face against each other in the finals.
North Side
In the North Side of the Underwater Arena, Team Mad Dog was to face off against Team FUG. There was a "key" in the centre of the island, which could open a hidden door which led to a grand prize of the tournament. If Team FUG managed to take this key, they would win. If, however, Team Mad Dog managed to defend the key, then Team FUG would lose. Also, two "capture points" were present. If Team Mad Dog managed to capture both of these points, then Team FUG would lose.
South Side
In the South Side of the arena, each of the eight Gamblers who had lost in the previous round were to "buy" a Vanguard with their points. Each Gambler was given 100,000 points to start with. Each player was assigned points based on their presumed strength. All Vanguards start in a "safe zone" and were given 30 minutes to exit the safe zone; if they didn't exit the safe zone in this time they were disqualified. Vanguards were free to attack whomever they wanted, but in order for a team to pass, the enemy team's Vanguard must have been eliminated. Also if a team forfeits for a reason other then combat their points disappear and you cannot gain points. Once the Tournament starts, a Vanguard has two options: they may either hunt down enemies or they may head out to a summoning area, where they can buy items and summon teammates. 50,000 points are granted to each Gambler every 30 minutes. If the enemy Vanguard is defeated, the victorious Vanguard's team gains 500,000 points. Apart from the enemy Vanguard, if a enemy is defeated, 100,000 points are granted to the victorious Vanguard's team.
Known Workshop Teammates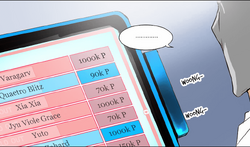 Androssi Zahard - 1,000,000P
Jyu Viole Grace - 1,000,000P
Varagarv - 1,000,000P
Rak Wraithraiser (under the alias "The Red Hawk") - 150,000P
Yeon Yihwa - 150,000P
Boondawan - 100,000P
Quaetro Blitz - 90,000P
Xia Xia - 70,000P
Yuto - 70,000P
Hon Akraptor - 60,000P
Wangnan - 10,000P
Winners
North Side: Team F.U.G
South Side: Team Tangsooyook

Team Tangsooyook Vs Team Solidarity - Winners: Team Tangsooyook
Ship's Team Vs Team Bellux and Unknown Team - Winners: Team Ship
Team Snake Vs Unknown Team - Winners: Team Snake
Team Tangsooyook Vs Team Devil Bon - Winners: Team Tangsooyook
Team Ship Vs Team Snake - Winner not decided. Team Snake had forfeited, and in order to maintain fairness, the Developing Tournament had a rule which stated that if a Team has forfeited due to a reason other than the injury of the participants of that Team, no point would be awarded to the opponents, and all the remaining Teams would have to fight amongst themselves.
Final Round
Although unofficial, Reflejo challenged Jyu Viole Grace and termed it as the "final round". This transpired when Reflejo took Hwa Ryun, Horyang and Novick hostage and told Jyu Viole Grace that if he came to rescue them and successfully escaped or defeated him, they would win and he would let them go on as the winners of the Tournament.
Results
Koon Aguero Agnis, Rak Wraithraiser & Jyu Viole Grace vs Reflejo (Hwa Ryun kept as hostage)

Result: Hwa Ryun is successfully rescued and Reflejo lost his life.

Androssi & Hatsu Vs Varagarv & Ron Mei

Result: Androssi Zahard & Hatsu win by forcing Varagarv to forfeit.
Workshop Battle Overall Winners
Team Tangsooyook were crowned the overall winners of the Workshop Battle after the intervention of Po Bidau Gustang.
Notes and Trivia
The E-rank Workshop Battle is over, but another Workshop Battle could be include in the story. After the characters have climbed up quite a bit and the relationships between them have been established, it might appear about one more time with special items on the line.[2]
Normally, at least one Great Teacher is commissioned to the Workshop Battle.[3]
References
Community content is available under
CC-BY-SA
unless otherwise noted.