Doctor Strange in The Multiverse o Madness - The Loop
Play Sound
The Workshop Battle: The Summoning (공방전: 소환) or simply just The Summoning (소환) is the twelfth arc of the second story of the second volume of the Tower of God series.
Arc Summary
Beta battled with Rak, Yihwa, and Vespa, and overwhelmed them before flying off after hearing of Viole's escape. In the cavern, Hwa Ryun appeared and revealed herself to be impersonating Yuto, to Novick, Horyang, and Viole's astonishment. She told Viole she would show him the way to return to his friends, which he confidently agreed to.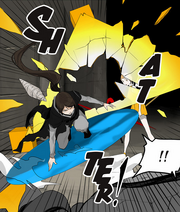 Wangnan inched ever closer to the item shop whilst the FUG-Viole escape team encountered Ron Mei and Varagarv. The FUG-Viole escape team continued running but were attacked; however, Viole managed to break through and get away. Wangnan headed for the item shop as Viole headed for the well and they soon reunited over the interface. However, their brief success was marred when Beta pierced Wangnan's chest.
Reflejo was made aware of Khun's plan to summon Viole while Rak, Yihwa, and Laure raced in pursuit of Beta. Before Beta could apply the finishing blow to Wangnan, the three arrive at his location and intervened. Laure noticed Medina inside his head and caused Beta to throw it up, whereupon it was destroyed by Yihwa. At that Wangnan proceeded to summon Viole.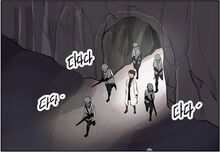 Beta angrily attacks the group and they fight, but their battle is interrupted when The Workshop guards and Sophia suddenly appear. The interruption is only momentary and Beta resumed his assault, this time attempting to blow up the entire shop before Viole could be summoned. Fortunately, due to Leesoo forfeiting, Viole is successfully summoned and the brunt of Beta's attack is blocked by Khun's Lighthouses.
Images Gallery