Spider-Man: No Way Home Trailer Dropped - The Loop
Play Sound
The Workshop Battle: Epilogue (공방전: 에필로그) or simply just Epilogue (에필로그) is the fourteenth arc of the second story of the second volume of the Tower of God series.
Arc Summary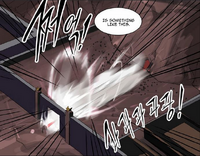 Baam wakes up and affirms his feelings of returning, Leesoo tells Wangnan to take care of Baam and climb up the Tower to meet them, Wangnan arouses suspicions thanks to his miraculous recovery, the Wolhaiksong Rankers discuss matters and Ha Jinsung arrives at Karaka's hideout.
After easily defeating the Rankers within Karaka's hideout, Jinsung discusses matters with the Slayer. Elsewhere, Androssi finally gets her date with Baam, Khun plans to split the teams in order to eliminate a certain someone and Cassano meets up with the infamous Rachel.
Cassano delivers Emile to the group whilst Traveller is unnerved by Rachel's presence. Elsewhere Goseng alerts Khun, Rak, and Baam to Horyang's condition which is then diagnosed by Sophia and Beta as being caused by Cassano. The three and Wangnan then ask Hwa Ryun for guidance and she tells them of the Hell Express on the 35th Floor. Baam cuts his hair as Hwa Ryun ponders Rachel and Baam's future.
Images Gallery