The arc begins with Wangnan staring at "Hellion Girl", wondering what she was doing with the man when he spots Lurker. Lurker walks over and explains that the man was the president's son, Prince, and they had hired bodyguards and rigged the tests to go up. The bodyguards included "Hellion Girl" who was a member of the Yeon Family, Rapdevil the "Devil of the Right Arm" and several others from the Da-an tribe. He goes on to say that Wangnan will have to fail.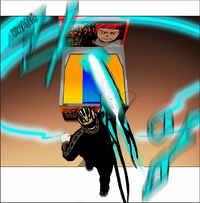 Love appears and introduces the second test - a shinsoo strengthening test. This test is the most disadvantageous kind for Wangnan and he ends up losing early on. Prince is bored and makes a bet with Yihwa on the line: the strongest one would get her. Horyang is disgusted and walks up to the machine and gets first place. Unfortunately, he is ousted by Rapdevil getting a score almost twice as high as him. Yihwa goes next and though she trips and only taps the machine with her head, she still gets twice Rapdevil's score. She thinks she is free, but Prince somehow gets a higher score than her. As the two of them argue, Akraptor laughs, saying that they're all arguing for second place. This is proved true as Viole steps up and gets five times Prince's score after using Floral Butterfly Piercing Technique.
As Viole steps up, Love changes the rules and says that Viole has to pick 7 of his own teammates. Wangnan, Akraptor, Horyang, Miseng and Yihwa all try to get accepted in comical ways, but Viole responds by saying that he is an actual Slayer candidate and that he is their enemy, which is why he will not choose anyone. In response, Love challenges him to a game.
Notes and Trivia
Community content is available under
CC-BY-SA
unless otherwise noted.