The Sandman Will Keep You Awake - The Loop
Play Sound
The Hell Train: Wooden Horse (지옥열차: 목마) or simply just Wooden Horse (목마) is the fourth arc of the third story of the second volume of the Tower of God series.
Arc Summary
Boro and his allies, Hanool Kang and Hong Danhwa, reached the 37th Floor station, Wooden Horse, and rendezvoused with Aka Williams and Sachi Faker there whilst Team Tangsooyook rushed to get to the station as fast as they could. Meanwhile, Rachel's group got ready to board the station.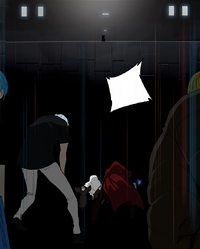 At the station, Boro, Sachi and Aka's group, as well as the other Regulars waiting to board the Hell Train, witnessed Hoaqin's mercilessly overwhelming power. Later, as the train was soon to leave, the locomotive was halted by lightning raining down from above whilst Boro, Sachi, and Aka's group were rushing to board the train. Baam, Rak and Khun then appeared and a fight broke out between the two Slayer candidates and their allies.
The fight was cut short when they were all teleported to the Train conductor's office, who then informed the Regulars of an upcoming game on the train in a month that would decide who would become the true Slayer candidate between Hoaqin and Viole. Elsewhere, Wangnan and Yihwa met a surprising person.
Images Gallery