The Sandman Will Keep You Awake - The Loop
Play Sound
The Hell Train: The 'Name Hunt' Station (지옥열차: 네임 헌트 정서장) or simply just The 'Name Hunt' Station (네임 헌트 정서장) is the eighth arc of the third story of the second volume of the Tower of God series.
Arc Summary
Team Novick proceeded further at the Name Hunt station whilst Leesoo's team observed from inside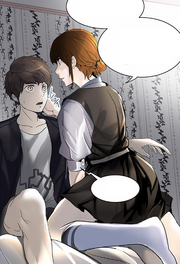 and got ready to move. Inside the Hell Train, Baam's squad passed the 38F stage test and successfully moved onwards whilst Rachel's team did the same elsewhere in the train. As the Regulars waited to arrive at the next station, Yuri revealed their intentions of going to the Floor of Death and also her plan to test them to see if they were strong enough to go there by telling them to get Kaiser's name on the Name Hunt station. Baam also remembered to head back to the Rice Pot to finish his training with the "God" of Guardians. There he was told about the true nature of his power.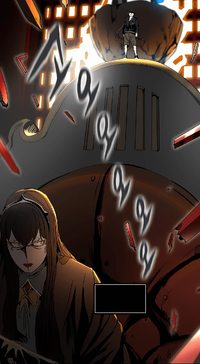 At the station, spurred by Androssi's loss of her name to Kaiser, Leesoo managed to make Baam assume his Jyu Viole Grace identity once again; this led Kaiser to challenge the Slayer candidate to a duel. This fight was interrupted by Androssi as she sent Baam and some of his team to the Leesoo's residence. Leeso then told them about the circumstances and tried to convince them to help Androssi regain her name back by defeating Kaiser. However, both Baam and Khun refused as they also need Kaiser's name. This led to a small conflict and both teams ended up deciding to pursue their own goals. As for Androssi, she gave Baam an ultimatum: to choose her or "Rachel." If Baam decided to choose Rachel (meaning that he chooses his own goal to go to the 43rd floor over saving Androssi), she will steal the name by force.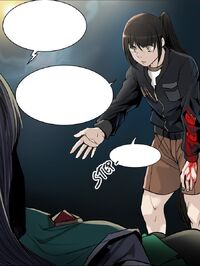 However, the two teams eventually joined together to hunt down the Ten Bosses and Baam managed to take Kaiser's name and get back Androssi's very own. Upon learning about her sad history, he also decided to save Kaiser by "buying her name" on the Auction through the help of Ha Jinsung.
In the meantime, two regular Princesses of Zahard, Lo Po Bia Lilial Zahard and Lo Po Bia Shilial Zahard, made their debut, revealing Khun Maschenny Zahard as their incredible High Ranker backer and another princess named Maria as a future ally.
Yuri was then informed of the failure of her plan to take back Baam from FUG once and for all; a little later on Maschenny challenged her to a deadly bet, wagering her Yellow May against Yuri's Green April.
Finally, Karaka exited the Hell Express to take on Yuri in a fight to the death and prevent further meddling with White's resurrection. However the Princess proved too powerful for him and he eventually had to resort to a very special technique in order to escape her wrath; but not before being informed of the existence of another ring bearer, Ja Wangnan and subsequently deducing the survival of his brother.
Images Gallery
See More Images here: The Name Hunt Station (Arc Images)