The Sandman Will Keep You Awake - The Loop
Play Sound
The Hell Train: Hoaqin (지옥열차: 호아킨) or simply just Hoaqin (호아킨) is the third arc of the third story of the second volume of the Tower of God series.
Arc Summary
Daniel Hatchid and his allies began their journey on board the Hell Train whilst Khun and his teammates, both from Team Tangsooyook and from Team Novick, readied to catch up to the Hell Train in order to subdue Rachel and Cassano. Afterward, Team Tangsooyook took on the 35th Floor test and successfully passed at the cost of Baam passing out after an impressive display of power.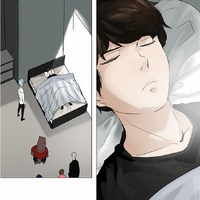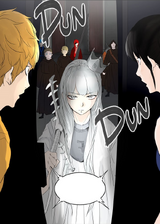 A month later, Team Tangsooyook took on the 36th Floor test and Baam passed out again. As the team mused on his condition, Ha Jinsung appeared. Meanwhile, on the train, Rachel's group overcame a surprisingly difficult puzzle before defeating a guardian and unsealing Hoaqin's first part. As Jinsung inquired as to what happened to Baam, Hoaqin got acquainted with the people around him. Jinsung told Baam and his companions that they should not pursue the train and then escorted them away. On the train, Hoaqin and Rachel's group encountered Yeon Yihwa and Ja Wangnan and captured them after a minor altercation.
While Hoaqin and Rachel's group passed the train's 36th Floor stage test, Khun executed a plan that allowed Team Tangsooyook to escape from Jinsung and head for the 37th Floor station.
Images Gallery