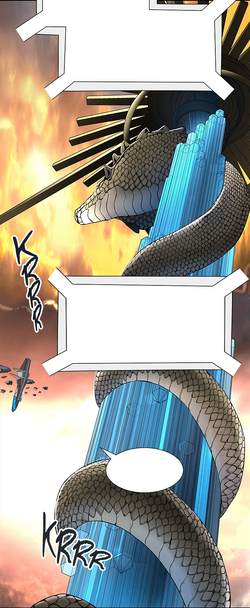 The Frozen Waterfall refers to the huge giant, long vertical Suspendium which is located in the middle of The Nest on the 50th Floor.[1]
About
Because of it's extraordinary huge size, it has enough power to keep everything around it afloat. Not even High Rankers can get near that giant Suspendium without special gear.
The Lo Po Bia Family Head has been using the power of that giant Suspendium to create a massive floating fortress (which known as The Nest) and used it as his base. He also asked The Workshop to create a special device that could "carry or transfer" anything into the inner body of that giant Suspendium. To put it simply, the Family Head want to make The Frozen Waterfall as "Storage Room". After a long period of research, The Workshop finally able to create such special device. The device is known as "The Light Which Makes The Waterfall Flow". This device needs a year of preheating until it can be operated. The device has the power to "store" or "take out" any kind of objects or living creatures inside the giant Suspendium.
Images Gallery
References
Community content is available under
CC-BY-SA
unless otherwise noted.