The Sandman Will Keep You Awake - The Loop
Play Sound
Sweetfish (은어, Euno) is a fish-like Shinheuh that was used as one of the key tokens of the Dallar Show.[1]
About
Sweetfish is a shinheuh that resembles a silver fish, however, its natural size is difficult to ascertain due to its compression ability. For example, it can become small enough that it can be caught in one's bare hands, or it can become large enough to swallow human-sized beings whole.
Plot
The first appearance of Sweetfish was in the first round of the Dallar Show--"Catching the Sweetfish". The rules were simple: the participants literally needed to catch the Sweetfish which was swimming about in a small water tank.[2] Because the Sweetfish was to be used in later rounds, participants had to catch the Sweetfish without killing it; if the latter occurred, the team who killed the Sweetfish would lose on the spot.[2] During the game, Rachel tried to catch the Sweetfish with her Lighthouses, however, the Sweetfish began to decompress as it proceeded to attack Rachel. In the end, Khun Aguero Agnis captured the Sweetfish using his Lighthouses moments before it could reach Rachel.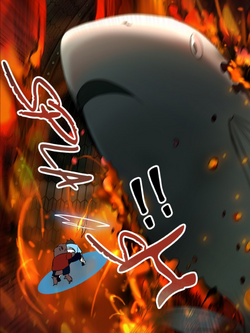 During the second round of the Dallar Show, "Transferring the Sweetfish", Khun and his team had to safely transfer the Sweetfish to the "core" of the Hell Train, located at the centre of the motor section, via the pipes.[3] If Team Viole managed to get the Sweetfish to the destination alive, they would win; if Team Hoaqin killed the Sweetfish before it arrived at the destination, they would win.
The Sweetfish used for the Dallar Show died shortly after the Dallar Show concluded. Inside the Submarine of Choice, as the core began to flood with the boiling substance, Khun began to wonder how he'd escape and catch Rachel when suddenly the Sweetfish made its presence known. In an act of bravery--or perhaps an act of loyalty to the one who captured and protected it during the previous rounds of the Dallar Show--, the Sweetfish sacrificed itself to save Khun by decompressing itself in order to shield Khun from the Boiling Acid substance.
Notes and Trivia
References