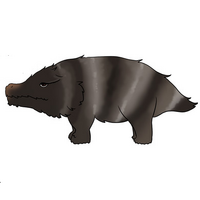 The Striped Ground Pig (줄무늬 땅 돼지, Julmunui Ttang Dwaeji), also referred to as a "Dog", is a creature of the Second Floor of the Tower . It is a predator to the Net Dolphin and therefore has a bad relationship with the Barnacle Goblins. Despite their appearance, they are very fast and agile. The creature is known for travel in maze-like subterranean passages.
Notes
The snout of the Dog resembles Rak's.
Community content is available under
CC-BY-SA
unless otherwise noted.