Jurassic World: Dominion Dominates Fandom Wikis - The Loop
Play Sound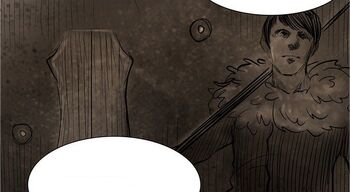 Spear Bearer (창지기, 搶지기, Changjigi, "Spear Keeper, one who guards using spears") is the Position that attack from long distance and snipes the opponent using Spears as their primary weapon.
About
The Spear Bearers do not tend to be very powerful in a melee, but are very valuable due to their pinpoint attacking from a distance. Some carry Needles when in the front, bearing the possibility of a melee in mind, but most don't.
Types of Spear Bearers
Spear Bearers are basically divided into three types:
Melee type (근접전, geunjeopjeon; "close contact fight"): This type of Spear Bearer will engage their opponent in close combat fight and attack or pierce with their Spears.
Ranged type (원거리전, wongeorijeon; "far distance fight"): This type of Spear Bearer will engage their opponent from long distance far away and attack by throwing their Spears.
Sniper type (스나이퍼 타입의, seunaipeo taib-ui; "sniper type"): This type of Spear Bearer will engage their opponent from long distance far away and attack with Sniper Rifle weapon as their "spear".[1]
Pipe Inventory
The Spear Bearers carry a special inventory called Pipes (관, Gwahn, "caskets" or "coffin" or "casing") that was specially created for holding spears, which are quite heavy.
Basic Arming (Ranker)
Battle Strategy
Main article: Battle Strategy
The first role of Spear Bearer is to act like the archers of ancient times. They are the first or second to shoot, to diminish the offensive capabilities of the enemy from far away. When Fisherman come to close combat they can prevent the enemy from receiving reinforcements (with the aid of the Scout) by shooting (Spear, Arrows, or Shinsu). Last is the role of a Sniper: shooting a particular enemy or weakness in the enemy with precision.[2]
Fisherman Combination
The Spear Bearers are commonly paired with Fishermans on the front-lines. In this combination, the Spear Bearer provides direct support for the Fisherman; keeping the enemy off balance with spears, but they also covering the Fisherman from other enemies. Another trick can also be that Fisherman will distract or force the enemy to expose themselves, giving the Spear Bearer a chance to land a critical hit from behind. Both strategies were demonstrated by Khun Ran and Novick.[2]
Light Bearer Combination
When paired with a Light Bearer, a Spear Bearer can increase their Spear-throwing accuracy and distance up to tens of kilometers away. This is because Light Bearer can use their Lighthouse to create complex calculation and then guide the trajectory of the spear to the intended target (as long as the target is within their range of control). Any method of attack from the Spear Bearer (such as Spear, Arrow, Sniper Rifle Bullet, Shinsu) can also be teleported using the Lighthouse Teleportation skill.[2]
Examples
Known Spear Bearers
Rankers
Regulars
Failed Regulars
Alternate Translations
References