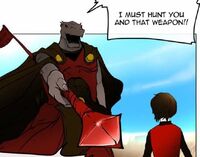 Spears are the signature weapon used by a Spear Bearer.
About
They are generally two kind of spears: the ones used for stabbing and the ones used for long range throwing.[1][2]
Some of them are of such quality that they can be thrown vast distances. Spear Bearers use Pipes to carry their spears.[1]
The strongest spear in the Tower is supposedly Mago, Khun Eduan's spear.[citation needed]
Known Spears
Known Spear Users
Notes and Trivia
References
Community content is available under
CC-BY-SA
unless otherwise noted.