Doctor Strange in The Multiverse o Madness - The Loop
Play Sound
"
That Irregular is definitely the one stirring things up at the moment... But none of the Elders, including me, trusts that amateur. That's why I tried to give Karaka the thorn.
"
Sophia Tan (소피아 탄, Sopia Tan) is a High Ranker, and one of the Elders of FUG.[1]
History
Sophia Tan was one of the Elders that opposed Baam and tried to melt Baam and the Thorn together and give the Thorn to Karaka during the Workshop Battle. She opposed Baam because she distrusted Baam and thought him to be an amateur.[1]
Appearance and Personality
She is lightly tanned, with pink hair and blue eyes. She is a very cautious person but is noted to be a hard-liner. Although she supported the other Elders into having Karaka kill Baam and acquire the Thorn, over the years, Baam's improvement and feats have intrigued her, though she still refused to act to help him when approached by Hwa Ryun. However, after Baam proved his mettle by defeating the Test Ranker Pan, Sophia was the first to tell the Elders to get ready to provide Baam with the assistance he needs.
Image Gallery
She is seen talking with another person over her Pocket about the conflict at the Wall of Peaceful Coexistence and Baam. After learning of the losses suffered by the Canine People, she notes how Khel Hellam's efforts to stop the war only caused him to be manipulated by Zahard. She says that Luslec hopes Baam will grow from the current challenges and if Luslec were to act now then a Family Head would intervene, resulting in all-out war and Baam losing his chance to get involved. She goes on to say that none of the Elders, including herself, trust Baam because he is an amateur and that is the reason why she tried to give Karaka the thorn. However, she admits that she and the other Elders will act once they're sure of Baam.
Hwa Ryun later notes that Sophia has taken an interest in Baam but still will not act when she reached out to her.
After Baam's success in defeating the Test Ranker Pan, Sophia, no longer able to deny Baam the support he needs, prepares for the incoming battle.
On a flashback, she was shown to agree to go along with Hwa Ryun's plan about the Battle of The Nest. She later defends the giant needle, their only mean of escape after the war, from the attack of the 5th Army Corp's shinsu cannons.[2]
Powers and Abilities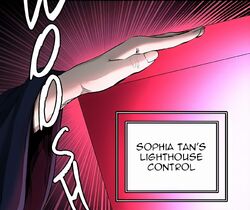 Given that she is a High Ranker as well as FUG Elder, it is safe to assume that Sophia is powerful. In battle, she holds the position of Light Bearer and is somewhat good enough to defend the giant needle from the 5th Army Corp's cannons.
Lighthouse Skills
Lighthouse Barrier
Quotes
References