Doctor Strange in The Multiverse o Madness - The Loop
Play Sound
Reflejo (리플레조) was a Regular and a former Fisherman of Team FUG led by Jyu Viole Grace during the 30F Workshop Battle. He spent thousands of years in the E-Rank level hiding as a sleeper agent for FUG.[2]
He joined Viole and offered his services to him, along with the fake Thorn. It is later revealed that Reflejo was sent by Poken, one of Karaka's Servants, to keep Viole under control and ensure that he is turned into a "weapon" by melting Viole's body with the Boiling Acid.[2][3]
Appearance and Personality
Reflejo is a blind male Human[1] who wear silver mask at all times. Underneath his mask, he seemed to have a normal looking face, however, his eyelids had been tied shut and eyes had been crudely drawn, in red, on top of them. Reflejo's eyes were stabbed because he was tortured by the followers of Yulia.[1]
His limbs were completely covered in metal and it is unknown what kind of being lay beneath them. He had long brown dreadlocks, which turned black and purple when he entered his shadow form. He tended to dress in dark robes.
Reflejo was almost always calm and obedient around Viole, although he appeared to doubt the wisdom of his master at times and was suspicious of some of his allies. Later, when his true plans were revealed, he showed himself to be ruthless, calculating and cruel.
History
At some point in the past, his family were wiped out and his eyes were tied shut after he looked upon "Ms. Yulia", who was apparently soon to become one of Zahard's Princesses.[1]
Reflejo first encountered Viole after the incident at the Hand of Arlen, when he and Yuto pledged their services to the Slayer candidate and offered him the Thorn. He was initially suspicious of Novick and Ran, but allowed them to wander free upon Viole's insistence.
During the first test in the Workshop Battle, Reflejo was seen criticising Xia Xia for allowing Viole out of her sight. He was later sent up to the Archimedes by Novick, on orders from Viole.
Reflejo was selected as the Gambler for Team FUG and proved very successful, having the most points out of all the Gamblers during the battles. He did not go all-in on Anak or Ran and was thus able to qualify for a battle against Team Mad Dog in the Tournament.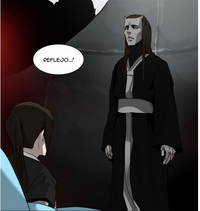 Reflejo entered the tournament round as part of Team FUG and was initially split up from Viole. Suspicious of the Slayer candidate's motives, he pursued him but was intercepted by Novick. The two briefly clashed, withNovick revealing that Viole was headed towards the Thorn and that he had made an alliance with Varagarv, the Mad Dog. Reflejo then countered that the Mad Dog had been a FUG agent all along and that Viole was headed into a trap. At this point, Ron Mei and Viviolga arrived and attacked Novick, who escaped with Kang Horyang. Reflejo told his allies not to pursue, saying that there was nothing Novick and Horyang could do anyway.
After Viole was captured, Reflejo briefly appeared before him to reveal his true motives: making Viole into a weapon for his master Karaka by fusing him with the Thorn. He then went to meet Yuto, who turned out to be Hwa Ryun, who told him that the fake Thorn they had given Viole would allow him to own the real one. Enraged, Reflejo ordered Varagarv and Ron Mei to stop Viole from escaping, while he destroyed the Summoning Well so that Viole could not be teleported out. However, the Slayer candidate was able to escape.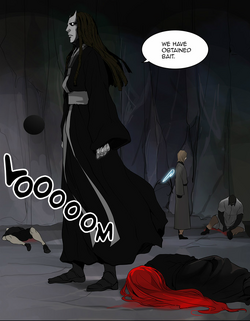 After being alerted by Beniamino Cassano, Reflejo intercepted Hwa Ryun, Horyang and Novick and quickly defeated them all. He then used Hwa Ryun's pocket to contact Viole, informing him that his friends were being held hostage and challenged him to a battle over them. He then went to the cavern where the Thorn was originally stored, along with Hwa Ryun, who he had beaten bloody. When Viole arrived along with Khun and Rak, Reflejo engaged the trio in his shadow form and was able to effectively fight them all at once.
He continued to effectively fight the trio, using Hwa Ryun as a hostage, but his safety card was foiled by Khun and, after Viole activated the Thorn, he was overwhelmed and beaten down. When the solution started to pour in, he chastised Viole and told the three that they would all die together. After Viole questioned Reflejo's death-seeking attitude, Reflejo destroyed the ground in an attempt to kill them all. As they fell, he witnessed them escape, thanks to Androssi Zahard who use her Bong Bong, and cursed god as he dropped into the Boiling Acid and died.
Powers and Abilities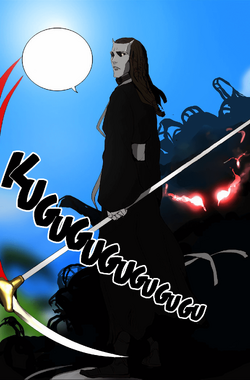 Reflejo was ordinarily catalogued as a normal E-rank Regular. However since he was gifted with a part of Poken's shadow, he apparently became stronger than a B-rank Regular upon usage.[2] His main achievement is that he could become one with his shadow, which made him a lifeform without a consistent flow.[4] This allowed him to be unaffected by certain Shinsu attacks.[4]
Physical
Reflejo was able to evenly fight and even drive back Novick, one of the top 10 E-Rank Regulars, without resorting to any special techniques. He wielded a large double-pronged scythe in combat.
Reflejo was capable of deceiving Viole as to his true intentions and was a good judge of strength, as evidenced by his success in the final tournament of the workshop battle.
Shadow Form: Reflejo's shadow could alter its shape normally and even take physical shape, allowing him to lift Hwa Ryun in midair with it.[4] However when he goes all-out, he fully merges with his shadow, granting him several impressive powers, although once the power is depleted, he would disappear.[4] He still used his scythe in this form. Though the power granted by this form is impressive it has been demonstrated that he is also rather fragile in this form as demonstrated by the need to dodge attacks from E-rank regulars Baam and Wrathraiser.
Shinsu Control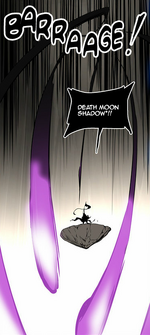 Reflejo was capable of controlling at least five large Baangs of Shinsu.[4]
Shinsu Resistance
Reflejo gained a major power boost when he use all his powers to fight Jyu Viole Grace, Khun Aguero Agnis and Rak Wraithraiser. His durability to resist shinsu increased to the point where his body nor his abilities were completely unaffected by the Lighthouse Flow Control of Aguero[2] and Reverse-Flow Control technique of Viole.
This is also due the effect of Reflejo's body as a "shadow", a special condition where he does not possess a definite Shinsu flow, making Viole's Reverse-Flow Control useless against him.[4] However, Reflejo is not in invincible state, so when the Thorn first activated, the power of Reverse-Flow Control could stop Reflejo's attacks.
Shadow Skills
Gallery
References