The Sandman Will Keep You Awake - The Loop
Play Sound
Yuri Zahard: "Just like Urek, this Wiki is the best place to work at, but has the worst pages to work on!"
This article is a stub! You can help Tower of God Wiki by expanding it.


Further discussion should take place at this article's talk page

Red Thryssa Transformation is a term that is used to describe a person's special ability to 'transform' their physical body by using the power of Red Thryssa. The only people known to have this transformation are Hell Joe and Twenty-Fifth Baam.
About
Red Thryssa Transformation skill originally only belong to Hell Joe alone, by using his own body as "the host" for Red Thryssa. Hell Joe can transform his body into a monster-looking creature. When he transform, he will be granted with two red long wings, giant red horns, and red beast jaw.[1]
History
After Urek Mazino successfully separated the real Red Thryssa from inside Hell Joe's body with the Segregation Drug, he then proceed to kill the Red Thryssa by choking the creature to death with his bare hand until it's head was cut off.[2] However, a red shinsu(?) abruptly came out from the dead body of Red Thryssa and it slowly formed a humanoid body with its eyes looking at Urek and was speaking an unknown language. Then, it suddenly focused a black purple energy on it's body. According to Urek, it absorbed all of the shinsu in the area and attempted to commit suicide by blowing itself up along with the Floor of Death. Then, Baam who is still able to use the shinsu thanks to the Thorn, managed to create a tiny crack on the area with the power of his Shinwonryu, enough to let Urek destroy it with one powerful Baang. Despite all the efforts, Red Thryssa still managed to escape in the form of red energy ball, which can be assumed as it's soul. That red energy ball then enter into Baam's body. Urek confirmed it after he "sensed" the aura of Red Thryssa coming from the inside of Baam's body.[3] After the event of Floor of Death until the end of Part II, Baam didn't show any sign of Red Thryssa transformation on his body at all.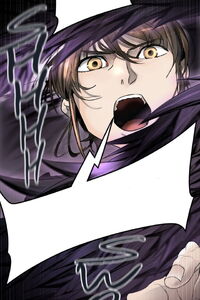 After witnessing that a Regular like Baam could defeat a normal Ranker, Doom suddenly took a liking on Baam and was interested with his growth potential. Doom then asked Baam to join the Canines species and work for him. Doom even wanted to give Baam a position as his executive and replace Yama's position. While raising his hand, Doom further added that he will give Baam the greatest Canine power he can possibly share to someone. Doom believed that Baam would make an incredible canine people. However, Baam who already knew the truth from Yama about Doom's power to mind-control people who he shared his power with, quickly refused Doom's offer. But Doom still wanted to make Baam work for him and turn him to become canine people. Doom quickly surrounded Baam with his mysterious hairy creature and covered his body entirely. During the process where Doom sharing or injecting his canine power, Baam get a display of Doom's past memory where Doom mentioned the name of Lo Po Bia Yasratcha. After that happens, Doom suddenly felt like his power was absorbed by Baam. Before Doom can truly finish the process, he was interfered by Khel Hellam who immediately asked Doom to stop.[4]
When Baam fought against Gado, Baam showed his first Red Thryssa transformation.[5]
Images Gallery
Types of Transformation
Host Transformation (Hell Joe)
Notes and Trivia
References