"
Though born of a human body, he was not one who grew within human constraint. This is an existence above any human, a distinctly separate entity from man. A "Ranker".
"

—Hatsu referring to Quant, Vol.1 Chapter 44
A Ranker (랭커, raengkeo) is a being who has reached the top of the Zahard Empire (currently 134th Floor) and has been given a Rank. This Rank should not be confused with the Ranking and Grading that both Rankers and Regulars continuously receive.
About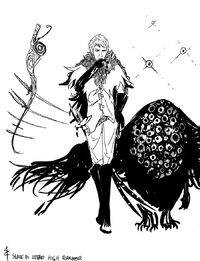 Ranker are those individuals who reached the 134 Floor and have been given a rank. This Rank is issued by the Ranking Administration Office and it is calculated after investigating and combining statistics such as a person's power, recognition and influence. There are some who hold high rankings due to the influence and attributes they hold (e.g. Baek Ryun) and there are others who have weak combat strength but hold high Rankings due to some other reasons (e.g. Evan Edrok)".
According to SIU, the Ranker position in the Tower is a very lavish status (one can assume they have no problem with living expenses). However, just because they became a Ranker doesn't mean their rivalries have ended. Rather, they enter into more fearsome rivalries, so they seek better positions and better jobs. [2]
Because of this, Rankers are sometimes Test Directors or Test Administrators of Floors. They are viewed as gods and have a much higher status than Regulars and normal residents of the Tower. They may also use the Middle Area's staircases to either skip certain Floors or to travel between the Inner and Outer Towers. Though they are permitted many benefits, they are usually restricted from entering the Regulars' Districts or from associating with them.[3]
Rankers of Karaka's level have eyes rivaling Observers; this results from training for a very long time, both physically and mentally.[4]
High Ranker
If a Ranker's ranking is in the top 1% of total Rankers, he/she can become a High Ranker (하이 랭커, hai raengkeo). There are about 1000 High Rankers in total. High Rankers are often described as gods among gods. Only those of a level equal to a High Ranker can become a Ruler.[5]
Rankers which inhabit the top 10% are similarly referred to as Advance Rankers, [6] 
High Rankers earn the right to go up to the 135th Floor but the Guardian of this Floor is very hostile.[7] Therefore not a single High Ranker has been known to have ascended to the 135th Floor.[7]
They seldom fight for their lives: a fight like the one between Yuri and Karaka at the end of the 'Name Hunt' Station arc is a rare event.[4]
Sobriquet
Sobriquet (이명, 異名, I-myeong; "nickname" or "pseudonym") is a type of nickname issued by the Ranking Administration Office, usually in reference to the High Ranker's battle Position or other aspects. Only High Rankers are able to receive a sobriquet.
A sobriquet can also be turned down, as Baek Ryun and Koon Eduan refused their sobriquets. Also, a person might be presented with more than one sobriquet as with Koon Eduan.
Fishermen are usually given the names of Shinheuh.[5] Guides are usually given the names of Boats. Wave Controllers are usually given the names of winds and waves.
A few examples of Sobriquets being named after something, other than a battle Position:
Enryu's sobriquet is called "Red Tower" because whenever he passes by, the Shinsoo around him turns red for some unknown reason. Zahard is the first King in the Tower's history and, as such, his sobriquet is "King of the Tower".
Known Rankers
Rankers In Order of Rank

Rank
Name
Sobriquet
Position
Info
1
Phantaminum

(Inactive)

Riddle
Unknown
Irregular
2
Enryu

(Inactive)

Red Tower
Spear Bearer
Irregular
3
Zahard

(Active)

King of the Tower
Fisherman
King of the Tower
4
Urek Mazino

(Active)

Ray Barracuda
Fisherman
Irregular and co-founder of Wolhaiksong
5
Arie Hon

(Active)

White Sword; White Oar
Fisherman
Head of the Arie Family and 100th Floor Ruler
6
Koon Eduan

(Active)

Marlin; Blue Thunderclap
Spear Bearer, Fisherman, Jeonsulsa
Head of the Koon Family
7
Adori Zahard

(Active)

Killer Whale
Fisherman
Zahard Princess, Head of the Royal Guard and owner of the Golden November
7
Eurasia Enne Zahard

(Sealed)

Great White Shark
Fisherman
Zahard Princess and owner of the Colourless December
9
Baek Ryun

(Active)

None

Wave Controller
Co-founder of Wolhaiksong and 77th Floor Ruler.
10
Ha Yurin

(Inactive)

Snakehead
Scout, Fisherman
Head of the Ha Family
11
Tu Perie Tperie

(Active)

God's Eye
Light Bearer
Head of the Tu Perie Family
12
Molic One P. GR

(Active)

Molic One
Unclassified
Eldest of the Three Lords
13
Eurasia Blossom

(Active)

Flower Shrimp
Wave Controller
Head of the Eurasia Family
14
Po Bidau Gustang

(Active)

Aloof Wave
Wave Controller
Head of the Po Bidau Family
15
Grace Mirchea Luslec

(Active)

Heretic; Tiger Fish
Fisherman
Leader of FUG
16
Hendo Lok Bloodmadder

(Active)

Long-Life Turtle
Defender
Head of the Hendo Family
17
Yeon Hana

(Active)

Cichlid
Fisherman, Wave Controller
Head of the Yeon Family
36
Arie Hagipherione Zahard

(Active)

Unknown
Unknown
Zahard's Princess and owner of the Red October
60
Evankhell

(Active)

Unknown
Unknown
2nd Floor Ruler
Top 100
Ha Jinsung

(Active)

Unknown
Fisherman
FUG member
Top 100
Kallavan

(Active)

Human Hunter
Fisherman
Commander of Squadron 4 of the Zahard's Army.
Top 100
Koon Maschenny Zahard

(Active)

Unknown
Fisherman, Jeonsulsa
Zahard's Princess and owner of the Yellow May
Top 100
Evan Edrok

(Active)

Fast Ship
Guide
Chief Guide of Zahard Family
Top 500
Ha Cheonhee

(Active)

Unknown
Unknown
Second Division Commander of Kallavan's Squadron 4 of the Zahard's Army.
Top 500
Ha Yuri Zahard

(Active)

Black Snakehead
Fisherman
Zahard's Princess and owner of the Black March and Green April
500-1000
Dorian Frog

(Active)

Unknown
Anima
Second Assistant Division Commander of Kallavan's Squadron 4 of the Zahard's Army.
500-1000
Yu Han Sung

(Active)

Submerged Fish
Wave Controller, Dansulsa, Wonsulsa, Anima
2nd Floor Test Director
High Ranker
Ari Bright Sharon

(Active)

Unknown
Fisherman
First Division Commander of Kallavan's Squadron 4 of the Zahard's Army.
High Ranker
Ari Han

(Active)

Unknown
Unknown
Head of the Ari Family
High Ranker
Augusgus

(Active)

Unknown
Unknown
20th Floor Test Director
High Ranker
Elpathion

(Active)

Unknown
Light Bearer
Assistant Commander of Kallavan's Squadron 4 of the Zahard's Army.
High Ranker
Garam Zahard

(Active)

Mako Shark
Unknown
Zahard's Princess and owner of the Blue August and Indigo July
High Ranker
Grand De Jah

(Active)

Unknown
Unknown
Former leader of North City on the 43rd Floor and "protector" of the Spirit Room.
High Ranker
Grand De Sah

(Active)

Unknown
Unknown
Former leader of South City on the 43rd Floor.
High Ranker
Heice Zahard

(Active)

Unknown
Unknown
Zahard's Princess
High Ranker
Khul Nissam Kay

(Active)

Unknown
Unknown
First Division

Assistant Commander of Kallavan's Squadron 4 of the Zahard's Army.

High Ranker
Koon Marco Asensio

(Unknown)

Flying Fish
Spear Bearer
Famous high ranker of the Koon Family who created his own faction in the tower.
High Ranker
Koon Royale Elliot

(Active)

Unknown
Unknown
44th Floor Ruler of the Koon Family.
High Ranker
Madoraco

(Active)

Grey Catfish
Unknown
FUG member
High Ranker
Pondo Zahard

(Active)

Unknown
Unknown
Zahard's Princess
High Ranker
Quadrado

(Active)

Unknown
Unknown
Took part in the "Great Journey".
High Ranker
White

(Active)

Unknown
Unknown
FUG Slayer
High Ranker
Yolker

(Active)

Unknown
Unknown
Member of Kallavan's Squadron 4 of the Zahard's Army.
Advanced Ranker
Phonsekal Drak

(Active)

None
Light Bearer
Second Company Commander of Kallavan's Squadron 4 of the Zahard's Army.
Ranker
Alphid Zahard

(Unknown)

None
Unknown
Zahard's Princess and owner of the Luminous June
Ranker
An Zahard

(Active)

None
Unknown
Zahard's Princess and owner of the Silver January
Ranker
Baylord Yama

(Active)

None
Unknown
FUG Slayer
Ranker
Charlie

(Active)

None
Unknown
Worker at the Altar dedicated for conveying Zahard's Orders.
Ranker
Death Bird

(Active)

None
Unknown
Servant of Karaka
Ranker
Death Karambit

(Active)

None
Unknown
Servant of Karaka
Ranker
Death Lady

(Active)

None
Unknown
Servant of Karaka
Ranker
Grand De Lee

(Active)

None
Unknown
Leader of North City on the 43rd Floor.
Ranker
Gromm

(Active)

None
Unknown
Servant of Karaka
Ranker
Ha Ruda

(Active)

None
Unknown
Ranker
Hachuling

(Active)

None
Scout
Wolhaiksong member and defector from Koon Family
Ranker
Hax

(Active)

None
Fisherman
2nd Floor Test Admin
Ranker
Imort

(Active)

None
Unknown
FUG Slayer
Ranker
Karaka

(Active)

None
Scout, Wave Controller, Fisherman
FUG Slayer
Ranker
Kurudan

(Active)

None
Wave Controller, Dansulsa
Wolhaiksong member
Ranker
Lero-Ro

(Active)

None
Light Bearer, Jeonsulsa
Former 2nd Floor Test Admin
Ranker
Lo Po Bia Porp

(Active)

None
Unknown
Ranker
Lo Po Bia Ren

(Active)

None
Wave Controller, Anima
Royal Enforcement Division member #67
Ranker
Mule Love

(Active)

None
Spear Bearer
20th Floor Test Admin
Ranker
Ms. Ice Strawberry

(Active)

None
Unknown
Wolhaiksong member
Ranker
Ms. Ice Strawberry's Partner

(Active)

None
Unknown
Wolhaiksong member
Ranker
Noma

(Active)

None
Unknown
21st Floor Test Admin
Ranker
Poken

(Active)

None
Unknown
FUG Executive
Ranker
Quant Blitz

(Active)

None
Scout, Hwayeomsa
Former 2nd Floor Test Admin
Ranker
Red Brubya

(Active)

None
Unknown
Messenger from the Zahard Family.
Ranker
Tinker Yolche

(Active)

None
Unknown
Member of Kallavan's Squadron 4 of the Zahard's Army.
Ranker
Unnamed Ranker

(Active)

None
Unknown
FUG member
Ranker
Yu Bok-Dol

(Active)

None
Spear Bearer
2nd Floor Test Admin
Ranker
Yuje

(Active)

None
Unknown
Wolhaiksong member
?
Robert Aisand

(Active)

The Cold Wave
Unknown
Deputy Director of the Ranker Administration Office
External link
References