Doctor Strange in The Multiverse o Madness - The Loop
Play Sound
R's Twin ("real name unknown") is the twin canine brother of ranker R. He is a ranker and a descendant of Canine People who got kicked out from The Cage long time ago by Baylord Yama. With his twin brother, they served Baylord Paul and joined "Paul's Crew" to seek revenge against Yama and start a rebellion in The Cage. He served as one of "attendant" of FUG's Elder Khel Hellam's High Priest together with his twin canine brother. He was killed by Gado after he was beaten by Slayer Candidate Jyu Viole Grace in a sparring challenge.
Appearance and Personality
Much like his twin brother R, the twin also has grey skin with purple short hair. He wears dark robes with imagery of High Priest. He has canine ears on his head.[1]
History
R's Twin was one of the canines banished and hunted by Baylord Yama. They all lived in hiding for many years. After he became a Ranker with his twin brother R, Elder Khel Hellam's High Priest, Mule, came to see this canine and offered them a chance to get revenge.[2]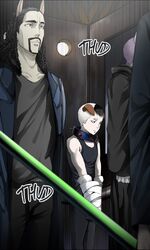 As an attendant of High Priest, R accompanied him to 52nd Floor to visit Baylord Yama.
R's Twin arrived in front of the place to the underground where Baylord Doom was sealed. He came together with Deng Deng, Apple, Michael and a mysterious person with a warship. After Gado told Venti to stay and guard the front place, he went to the underground, along with Paul, Deng Deng and R's Twin.[3]
After Doom wake up and went to the outside, R's Twin was not seen to be anywhere. It is only after Jyu Viole Grace and Karaka arrive to confront Doom, R's Twin break out and rise up from the underground rubble after destroying huge stones that hinder his way out. He survives and was seen carry Michael and Deng Deng. He saved both of them. Paul then asked R's Twin that why he would go so far only to save regulars, but he replied that Deng Deng is still one of a Canine People who sacrificed his life for Doom's revival and that he only wanted to give Deng Deng a proper burial.[4]
Short story, Karaka attempted to prevent Doom from retrieving his fang by slowing him down with a special challenge and said that he will reward Doom with his position as FUG Slayer, means replacing his seat. Karaka then proposed to Doom that he will fight three of them (Doom, Paul, and Gado) while the slayer candidate Viole will face the ordinary canine ranker, which is R's Twin. Doom accepted the challenge and allow Viole to fight R's Twin. After exchanging some fighting techniques and combat abilities, R's Twin lost to the slayer candidate Viole and slump into the ground kneeling. Gado was so pissed with R's Twin, saying that why he couldn't beat a mere regular and immediately stepping his foot above R's Twin's body and kill him with a powerful blast from his kick pressure.[5]
Powers and Abilities
Although he isn't the strong members of Paul's Crew, he is still a Ranker and therefore he is strong. He was confirmed to also have Canine Transformation powers. He is quite strong as a ranker because he can defend against Culden, an Advance Ranker in close range combat.
Although he is not allowed to use his transformation powers during his fight with Viole, he is strong in physical combat. He used a combination of martial arts punches and Shinsu Baangs to penetrate Viole's guard and defense. His one fist punch can also blast and cracked the ground behind Viole's standing position.
References