Punk was one of the hosts of the Workshop Battle and the creator of the "Blood Tamara". He and Io presented and supervised the various events of the Workshop Battle.
Appearance and Personality
Punk is seen wearing a black suit with gloves and wears the shoes near identical to his partner's Io. Unlike his partner, his helmet is red and covers his entire face.
Both he and Io seem to take pleasure from their jobs and do not seem to have many qualms over harm caused to Regulars in order to complete their research.
He was first seen next to Io, discussing the upcoming Workshop Battle and the items they had created. The two met up with Madoraco, who discussed how they might profit from the Battle. After he left, Io and Punk noted that the money could help complete their research into Emile.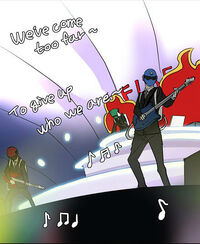 Punk and Io introduced themselves to the audience and then Punk left, leaving Io to commentate and coordinate the game of "Plug".
As the Development Tournament began to get underway, Punk explained the rules of the match-up between Team FUG and Team Mad Dog on the northern side of the isle.
During the semi-finals of the Development Tournament, Punk came up to Io and explained the severity of the situation on the Archimedes as all the prisoners had escaped from their respective cells. Io exclaimed in surprise, wondering how things could have gotten this out of hand.
He and Io wanted to restart the Development Tournament as quickly as possible, after Beta's intrusion, and were then left wondering in confusion when they saw Androssi using Bon Bon up in the sky. They later confronted Madoraco and were annoyed when he told them he had given their reward to someone else. Riled, he and Io draw their weapons and prepare to attack but they were easily defeated by the High Ranker.
Alternate Translations
Notes and Trivia
According to SIU both Io and Punk's designs were inspired after the French electronic music duo Daft Punk. Punk appearance specifically seems to be based on the member Guy-Manuel.
Higher Ups
Founding Father
Researchers
Suspendships
Others
Community content is available under
CC-BY-SA
unless otherwise noted.