Boba Fett Returns - The Loop
Play Sound
Prince of the Red-light District (홍등가의 왕자, 紅燈街의 王子, Hongdeunga-eui Wangja) is a term used to name some of the Tower inhabitants who have inherited the blood of Zahard.[1]
History
According to Rachel's mysterious informer,[2] their existence is a shame to the King of the Tower who regards them as his "worst disgrace" and has tried ever since to hide them.[1] Likewise, Hwa Ryun spoke of one of them as "the most terrible affair left by the Ten Great Families and Zahard".[3]
Ring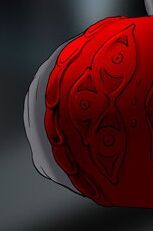 They bear a red ring engraved with the symbol of Zahard. The rings were crafted from half of the Key of the Tower.[1] Thus, it is said that only when all Princes gather on the 135th Floor, then this floor may be conquered.[1]
Powers and Abilities
They are said to carry a power which they were not meant to hold.[1]
As both of the known ring bearers have proved they could ignore death to some extent,[4][5] some readers speculate they are covered by Zahard's immortality contract to some degree.
Princes
Known
Plausible
Notes and Trivia
The story of the Princes shall be gradually revealed.[2]
It is unclear why Zahard would entrust the Rings to the Princes of the Red-Light District if he considers them such a shameful disgrace.

It could be that Zahard decided as they were not acknowledged in public, they could be useful to hide the Rings to ensure they remain unknown to public existence.

SIU suggested that the Zahard's symbol bearing ring might be made of clotted blood.[11]
Jaina Repellista Zahard stated that the time had come for "them"[12] to appear.[13] She might have been referring to the ring bearers. She also claimed that soon the Prince of Zahard would return, the relationship between the two princely titles remains undisclosed.
A Red-light district is a prostitution and sex-oriented business urban area, so is a 홍등가 in Korean.
Officially (on record/widely known), there is no prince who has Zahard's blood. Formally, only Princesses who have been injected with his blood exists.[14]
If the Boss is also one of the prince, it means 2 prince with face uncovered have a mole on their face. Wangnan has a mole near his righr eye while the Boss has one beside his left mouth.
References