Po Bidau Lyborick Khun (포 비더 라이볼릭 쿤, Po Bideo Laibollig Kun) is a High Ranker from the Po Bidau Family and the Khun Family. He is the newly appointed Corps Commander of the 4th Army Corp of Zahard's Army after Kallavan was demoted.[1]
History
At some point during the Age of Coexistence, Lyborick was already an elite member in the Zahard's Army when he was contacted by Khun Hynd Luch who seek out a helping hand to save his friends in the Hidden Grove from FUG's grand assassination plan to ambush King Zahard in his sleep which would be led by Khel Hellam. Luch believed that FUG cannot defeat Zahard and such a plan will only end up as a suicide mission. Luch then leaked out the intel of FUG's plan to Lyborick as the price to spare his friends' life. Lyborick, of course, accepted the information and promised Luch that he would save them. When the day of FUG's assault towards King Zahard led by Khel Hellam was finally initiated, Luch followed Lyborick's instruction to guide his friends to the promised safe location where they will be captured for a while and will be released after King Zahard took care of the assault. Lyborick does keep his promise to keep the Hidden Grove members safe, but he never intended to release them, and instead, he took all of them as hostages to make Khun Hynd Luch do dirty work on his behalf for a very long time.[2]
He is quite mysterious, as Ha Cheonhee did not know much about him.[3] Even the 5th Army Corp Corps Commander Lo Po Bia Yasratcha
After Kallavan successfully brings Dowon back to the Corps, Lyboric praises him for his good work and appoints him as Company Commander before revealing to Dowon they brought the survivors of the Hidden Grove, who had been defeated decisively by Zahard and promised to let them go if she is loyal to them.
Lyboric is later seen with Khun Maschenny Zahard and Lo Po Bia Yasratcha as he scolds Yasratcha for not finishing off Baylord Yama, saying that regardless of the order, he should have killed him before going to the Nest.
Appearance and Personality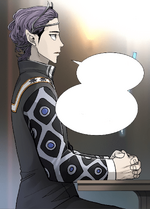 Lyborick is a tall, big build man with short purple hair with green eyes. He wears some kind of headband that keeps his hair combed back. He wears a dark grey vest and a long sleeve shirt with a diamond pattern.
Although not much is known about Lyborick, he is shown to speak in a formal tone and has no hesitations using leverage over others, as he bluntly told Dowon that the survivors of the Hidden Grove are currently being held hostage and would be killed if she opposes them, and is more than willing to admonish what he sees as flaws, criticizing fellow Corps Commander Lo Po Bia Yasratcha for not finishing Baylord Yama off, showing he takes the threat of FUG seriously. At the same time, he is shown to be willing to reward success, as he congratulated Kallavan for successfully bringing Dowon and promoted him to Company Commander. Typical for the Khun Family, Lyborick is shown to be crafty and cunning, as he was able to detect something suspicious about the Canine People being so confident in their ability to win the battle, connecting it to the possibility that the canine people found a counter to Yasratcha's power.
Lyborick's cunning was further shown when he deduced that FUG was going to use The Cage for a special reason. He was willing to sacrifice the entire Corps to destroy The Cage, although it was part of his plan and schemes to destroy the old 4th Army Corp which consist of Kallavan's servants and set an excuse that they should be disposed of since they were more loyal to Kallavan than King Zahard. He showed no remorse or hesitation and totally reformed the new 4th Army Corp from scratch with stronger members who were more loyal to Zahard.
Image Gallery
Powers of Abilities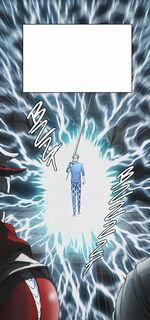 Being a High Ranker and holds the position as a Corp Commander, he is assumed to be quite powerful. His fighting capabilities are unknown, but in the past during the Age of Coexistence, he captured the remaining members of the Hidden Grove team (excluding Cha and Dowon since they were already sealed at that time).[2]
Lyborick was shown to carry a big spear and possessed electricity or lightning attributes.[2] Typical power trait of the Khun Family, which indicated that he is also most likely a Spear Bearer.
Alternate Translations
Poe Bidau Lyborick Khun (Line)
Notes and Trivia
He was first mentioned in Vol.3 Ch.39, but had his first appearance in Vol.3 Ch.51.
Although he is from both the Po Bidau and Khun family, his main family is the Po Bidau family, since this is the name that is first used. This is similar to how Zahard's Princesses will use their original family name first and then add Zahard at the end.
Given that both the family leaders of his families are male, he can at best be a first-generation member of one of the families.
References
Community content is available under
CC-BY-SA
unless otherwise noted.