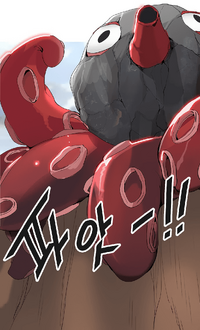 The 'Octopus Kim' is a C-rank level scroll villain monster of the Hidden Floor.[1] This octopus size is so big.
About
Octopus Kim is an octopus that was abandoned in the waterways of the Town of Wandering Minstrel Village after being raised by a hero or warrior who visited here long ago and has since become a monster which has incurred the resentment of the residents of the village. It's an octopus king with quite the history.[1]
Powers & Abilities
It can stick and glued itself on vertical objects like wall, house or chimney.
Head Slam: Octopus Kim will jump high in the air and will position it's head to face down to the enemy. It will increase it's speed in the mid-air to give a greater impact and destroy the enemy defenses.
Black Ink Burst: Black Ink will burst out from it's mouth to disturb enemy's vision.
Notes & Trivia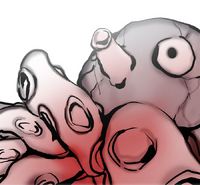 Octopus Kim is a scroll villain monster. The scroll was in the quest scroll archive of The Town of Wandering Minstrel that was managed by quest scroll manager "Jyong"[1]
If the heroes or warriors failed to defeat this quest monster, it will destroy the town.[1]
Images Gallery
References
Community content is available under
CC-BY-SA
unless otherwise noted.