The Sandman Will Keep You Awake - The Loop
Play Sound
Native One(s) (네이티브 원, Neitibeu Won) are beings that are able to rule over the elements in the Tower.[1]
History
There was once a giant in the Tower who split himself into five beings, each with the power to control the elements of the Tower and each were known as a "Native One".
The Native Ones had direct descendants of pure blood which shared the same abilities as themselves and also non-direct descendants which had a lesser degree of elemental and form control than Native Ones themselves.
Some of the Native Ones' direct descendants were companions to Zahard and his 12 companions during their journey to climb to the top of the Tower. According to Data Eduan's belief and knowledge, most of the Native Ones' direct descendants were exterminated by Zahard, but the rest of the Native Ones that managed to escape and survive were cursed with a terrible spell. These remaining Native One descendants were later known as the Cursed People.
When Rak Wraithraiser, a Native One's direct descendant, later enters the Tower, the data of Khun Eduan wonders how its possible for him to exist.[1]
Powers and Abilities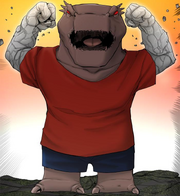 Native Ones and their direct descendants were considered by the data of Khun Eduan to be extremely powerful beings, just as the giant before them was. They are known to be able to control and rule the elements in the Tower. When they used their elemental abilities, their body was covered in light and was able to change form.[1]
Non-direct descendants are only able to change the attributes and forms within themselves. For example, Hesse, a non-direct descendant, was able to manipulate his earthy body which is made of soil and dirt.
Direct descendants, on the other hand, manipulate elements external to themselves. For example, the direct descendant Rak Wraithraiser, is able to attach rocks that do not naturally belong to his body onto his arms.
References