"
When Yasratcha first came to the Lo Po Bia Family... Everyone called him a nameless pet cat. All he ever did was sit next to the leader of the family and act cute. But it turns out... He was a wild beast.
"

—Baylord Doom describing Yasratcha.[1]
Lo Po Bia Yasratcha (로 포 비아 야스라챠, Lo Po Bia Yaseulachya) is a member of the Lo Po Bia Family and a High Ranker. He is shown to be the commander of the Fifth Army Corp of Zahard's Army.
Appearance and Personality
He has pale skin with long blue hair, from which two brown cat ears emerge and he has a long leopard's tail. Yasratcha eyes consist of a narrow red pupil surrounded by a layer of blue and then green, with two spikes on either side of the iris.
He likes to employ schemes, preferring to destroy the Wall of Peaceful Coexistence by collapsing it from the inside and then blaming it on the chairman, instead of just outright attacking the wall.[2] Yasratcha's laziness can be at sadistic levels, as he sarcastically told Yama to kill himself so that he would spare the Canine People. However, Yasratcha's demeanour doesn't seem to extend to his allies in the Army, being highly loyal and respectful to Zahard to the point of calling himself a lowly being compared to the King of the Tower and additionally he seems to be rather sympathetic to Kallavan's plight after his demotion and failure, openly asking him what he would like to be called and telling him to not be so formal, even encouraging him that he would get back his rank anyway. He is also shown to respect bravery, favoring the 2nd Division led by Lo Po Bia Fucile above all other Divisions of his Squadron as he respected his bravery and saving his life after he bravely fought Yama while praising his willingness to go down fighting. He also was willing to obey the order to retreat despite wanting to dispatch Baylord Yama, instead mind-controlling the canine people to scare him off.
History
Yasratcha and his squadron was seen in the Second Wall of the Peaceful Coexistence, where the commander of the 2nd Division reports that the Chairman of the Wall intends to defend it despite having been given warnings to surrender and evacuate. Yasratcha is unconcerned as he also has received reports that many of the civilians are unhappy with the Chairman and decides to continue spreading messages while surrounding the Wall to cause chaos, ordering the 2nd Division to move out along with him.
Yasratcha was remaining in his ship while the Goat Man Tu Rah was forced to sing praises to him until he suddenly smells a Canine People. Coming out, he finds the Slayer Baylord Yama confronting Fucile and muses on how he did not expect seeing a lost puppy from the Cage. Yama asks why would someone as big as a Squadron Commander like Yasratcha attack the Wall and Yasratcha simply says that he follows orders from King Zahard, who he deems a superior being that he can't possibly understand as a lower creature, but believes maybe Zahard sent him there so he could dispatch Yama and orders Fucile to fight Yama. Before Yama can kill Fucile, Yasratcha saves him and after commenting on how he respected Fucile's bravery, proceeded to reveal his ability to mind-control Yama, which astonishingly works on him, and has him beat himself up while musing on how Doom didn't tell Yama about him.
He is also shown in a flashback in Kallavan's end of the Wall, where he questions what would Kallavan like for Yasratcha to call him now that he has been demoted and encourages him to not be so formal as he could still regain his old position. The Minister of National Defense Ke-sa the Furious then tells Yasratcha the mission to tear down the Wall of Peaceful Coexistence and capture or slay the heroes sealed in the Wall as Yasratcha comments on the Irregular mentioned by the Minister.
Then the Cage arrives, shocking Yasratcha but he quickly recovers, smirking sadistically as he realizes Zahard saw the Canine People defending the Wall so he sent him there and after sarcastically mocking Doom over not seeing him for a long time since he was locked up, proceeds to mind-control the Canine People, completely turning the odds against the defenders of the Wall. Easily defending himself against Evankhell's flame attack, even mocking her for lacking the dignity of the Yeon Family's flame, Yasratcha has Canzon intercept Evankhell, saying he'll fight her if she burns him to death. This pisses Yama off and he activates his Complete Transformation, which turns Yasratcha's attention to him.
Yasratcha oddly thinks to himself seeing Yama's Complete Transformation that his power makes him worthy before he decides to pit the brainwashed Canines against Yama. Evankhell is able to blind them so Yama can go after Yasratcha but Yasratcha easily proves himself to be more than a match for the exhausted Yama and not only dodges the attack but also badly injures Yama as he mocks him for believing Yasratcha avoided him just because he is weaker. Having had enough as Yama persists, Yasratcha offers to spare the Canine People if Yama kills himself.
Suddenly, however, a powerful attack emerges from the Wall which Yasratcha blocks, although he was pushed back by the force of the attack, as he realizes that the Hero of the Wall is awake. His Squadron then comes out to help Yasratcha. Before Yasratcha can engage Cha, however, as he was thinking of the proper way to capture him and completely ignores the battle between his subordinates and FUG, a messanger contacted him via his Pocket and ordered him to retreat, much to Yasratcha's confusion as he hadn't finished the mission only to learn that Kallavan had succeeded and so the mission was abandoned. Yasratcha reluctantly agrees to retreat but he orders the Canine People to kill each other, killing Canzon and half of the Canines, while taking the other high-ranks hostage. Before Yasratcha warps away with his Squadron, he coldly tells Yama that he better learn his lesson and stay in his Cage and never challenge him again.
In the Nest, as his Squadron and the 4th Squadron were tasked with guarding it, Yasratcha comments on why would 2 Squadrons be fulfilling a single mission whereas a single Squadron has never failed and is unconcerned with the idea of FUG rallying behind the Irregular, having nearly killed Yama and believing all of them would not be able to stand up to Zahard's Army. He quickly finds himself at odds with the new 4th Squadron Commander Po Bidau Lyborick Khun, who reprimands him for not finishing off Yama, and is amused when Khun Maschenny Zahard comments on how the other Families didn't provide support at all to the Army, as it would be strange for the 10 Great Families to be involved except for his family as the Lo Po Bia Family Head is extremely loyal to Zahard. He and the other high-ranking members of the Army are then shocked when they learn the Irregular is alone with only a Guide with him, only for the Cage to appear and Evankhell and Karaka attacking the First Wall. When Yama and the Cage enters as well, Yasratcha was about to deploy to fulfill his responsibility when Lyborick tells Yasratcha to stay as the First Wall is under his command.
As the battle rages on, with the Slayer White regaining his power, Yasratcha is confused with Lyborick's calmness over the matter only to learn to his shock and disgust that Lyborick is intending to blow up the flagship of the 4th Army Corp, commenting on how lunatic Lyborick is. Still uncomfortable, Yasratcha questions if Lyborick really has the permission from HQ to eliminate the old 4th Squadron, seeming unpleased as Lyborick confirms that it is HQ's orders as Kallavan's men were more loyal to him than to Zahard. Yasratcha is then shocked upon seeing Baam teleporting everyone in the Cage, knowing Teleportation is a skill few High Rankers can do.
As Lyborick expresses his confidence he has still won as the old 4th Army Corp has been disposed and promises to take responsibility if any problem comes up, Yasratcha asserts his authority over the Second Defensive Wall and states he has prepared something that can match up the proper combatants, calling it a "game", and thanks Maschenny when she approves of giving him control before leaving.
Arriving on the Second Defensive Wall, he stops his followers from angering Kallavan any further, stating they can't hope to win against him, before stating his plans to play a game to match everyone with the best suited opponent.
Powers and Abilities
As the Commander of the Fifth Army Corps of Zahard's Army, Lo Po Bia Yasratcha is clearly an extremely powerful High Ranker. His strength is acknowledged by Baylord Doom, one of the top 200 Rankers, to be far superior to his own, with him stating that for all of Yasratcha's demeanor, his strength is monstrous and was feared by Doom's father, and he proved to be able to easily defend himself against the likes of Evankhell and Baylord Yama's complete transformation, though Yama was weakened and exhausted. In fact, Doom commented that even in a fair fight, Yama alone would not stand a chance against Yasratcha. Another proof to his strength was how he was entrusted with capturing or killing the extremely powerful war hero Cha.
Immense Physical Abilities: Yasratcha was strong and fast enough to easily outpace Yama using Complete Transformation and land attacks that gouged Yama all over his body.
Shinsu Mastery: He was able to create a shield of white-fur like shinsu strong enough to easily block Evankhell's flame.
Yasratcha-Style Mind Control - Daze: Yasratcha is able to summon fur that will swirl around and cover his enemies in the middle. With this, Yasratcha was able to take control over Yama, making him punch himself, and was also able to affect the entire canine people in the cage, making them go into a frenzy and kill each other. According to Yasratcha, he was able to take control over them due to the "blood" that Yasratcha gave them.[3]
Image Gallery
Notes and Trivia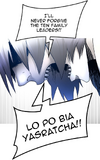 Baylord Doom was shown to be holding a grudge against Lo Po Bia Yasratcha and his family in a flashback that Baam saw, due to what Lo Po Bia Yasratcha did to Doom's father. [4]
It was originally thought that Yasratcha was the Family Head of the Lo Po Bia Family due to him being reference by Baylord Doom alongside the 10 Family Heads.[4] However, this was disproven by SIU on his Twitter, where he described this assumption as a huge misunderstanding.[5][6]
In the original korean, Baylord Doom describes Yasratcha's eyes as "Watermelon-like Eyes", which was cut from the Line Webtoon, where they translated it to just "Amber Eyes".[7]
Quotes
(To Yama) "You're under my command now, Baylord Yama. Because the 'blood' I gave you.. flows through your body.".
References
Community content is available under
CC-BY-SA
unless otherwise noted.