Lo Po Bia Yasratcha (로 포 비아 야스라챠, Lo Po Bia Yaseulachya) is a member of the Lo Po Bia Family and a High Ranker. He is shown to be the commander of the Fifth Army Corp of Zahard's Army.
Appearance and Personality
He has pale skin with long blue hair, from which two brown cat ears emerge and he has a long leopard's tail. Yasratcha eyes consists of a narrow red pupil surrounded by a layer of blue and then green, with two spikes on either side of the iris.
He likes to employ schemes, preferring to destroy the Wall of Peaceful Coexistence by collapsing it from the inside and then blaming it on the chairman, instead of just outright attacking the wall.[1] Yasratcha's laziness can be at sadistic levels, as he sarcastically told Yama to kill himself so that he would spare the Canine People. However, Yasratcha's demeanor doesn't seem to extend to his allies in the Army, being highly loyal and respectful to Zahard to the point of calling himself a lowly being compared to the King of the Tower and additionally he seems to be rather respectful to Kallavan even after his demotion and failure, openly telling him to not call him sir and encouraging him that he would get back his rank anyway.
Powers and Abilities
Yasratcha-Style Mind Control - Daze: Yasratcha will summon many fur that will swirling around and cover his enemies in the middle. After he did that, he was able to take control of Yama's body, making him hit and injure himself.. According to Yasratcha, Yama's movement was under his command. He was able to take control over Yama's body due to the "blood" that Yasratcha gave him. This power also looks similar to Doom's black furry creature.[2]
Image Gallery
Notes and Trivia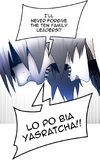 Baylord Doom was shown to be holding a grudge against Lo Po Bia Yasratcha and his family in a flashback Baam saw which indicates Lo Po Bia Yasratcha may have done horrible actions against the Baylord Family.[3]
It was originally thought that Yasratcha was the Family Head of the Lo Po Bia Family due to him being reference by Baylord Doom alongside the 10 Family Heads.[3] However, this was disproven by SIU on his Twitter, where he described this assumption as a huge misunderstanding.[4]
In the original korean, Baylord Doom describes Yasratcha's eyes as "Watermelon-like Eyes", which was cut from the Line Webtoon, where they translated it to just "Amber Eyes".[5]
Quotes
(To Yama) "You're under my command now, Baylord Yama. Because the 'blood' I gave you.. flows through your body.".
References
Community content is available under
CC-BY-SA
unless otherwise noted.