The Sandman Will Keep You Awake - The Loop
Play Sound
Lo Po Bia Ha Satcha (로 포 비아 하 사챠, Lo Po Bia Ha Sachya) is a High Ranker and the 1st Division Commander in the 5th Army Corp of Zahard's Army.[2] She was originally born as the member of Ha Family and later carry the family name "Lo Po Bia" after she obtained power of the Felines from Lo Po Bia Yasratcha.[1]
Appearance and Personality
She has long black hair that gradually goes towards white at the tips. She has grey eyes, pointy cat ears and long brown tail. She wear a short black dress, black stockings, black high heels and white fur coat on her right shoulder.
She is rather reserved, preferring to stay quiet in heated situations.[2] She is apparently older than the former 2nd Division Commander Ha Cheonhee from the 4th Army Corp under Kallavan.[1]
History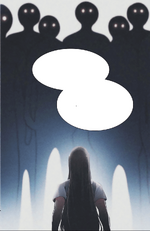 Lo Po Bia Ha Satcha was originally born as a member of the Ha Family. When she was little, Ha Satcha was very talented and stronger than her peers. But despite her talent, Ha Satcha is very lazy, so she did not like being pressured or competition and despised the philosophy of the Ha Family in terms of their way of living or enjoying life.
She is seen rolling her eyes at Lo Po Bia Haratcha's enthusiasm and being annoyed with Nanatona complaining about Lo Po Bia Yasratcha. She later kneels before McCage as he is disciplining her and the other Division Commanders. Later she enters the battlefield against Yama's Gang, where she defends against Baylord Paul's attack with a cloudy ghost Shinsu. Ha Satcha along with other members of the 5th Army Corps retreated after receiving a call from HQ.
Ha Satcha returns with the other members of the 5th Army Corps behind the second defensive wall near The Nest.
Ha Satcha tried to avoid fighting Ha Cheonhee and asked her to just give up the game. But Cheonhee refused to give up and resist with strong determination. In the end, Satcha was pissed that Cheonhee refused her philosophy of laziness and was able to resist her power so Satcha gave Cheonhee a mouse and told her to join Kallavan on the Cat Map Floating Fields.
Power and Abilities
As a High Ranker and the 1st Division Commander of the 5th Army Corp, Satcha must be very strong. She was born with talent and strong physical body since she was little. But because of her laziness, it seemed plausible that she slacked her training. However, she still managed to reach the power level of Division Commander, so this means that she is really powerful.
She is very confident with her "special ability" to put people into sleep. This was proven when Satcha did not hesitate to confront another Division Commander, Ha Cheonhee and said she can easily beat her. Although Satcha never showed her full power, she is arguably stronger than Cheonhee but it is mostly because of her special skill.[3]
Shinsu Smoke: She rides on top a ghost-like cloud or smokes and utilizes attacks that also looks like cloudy ghosts. As shown from her brief fight against Baylord Paul, Satcha herself was also shown to conjure the smoke to block his attacks.[2] Later during her fight against Cheonhee, Satcha created more clouds in preparation to fight her, implying that the clouds themselves have further offensive capabilities.
Felines Power
Ha Satcha also accepted the Felines power from Lo Po Bia Yasratcha, but she did not received the power of Beastification transformation like the other Division Commanders such as Lo Po Bia Haratcha, Kendrick Diel, and Nanatona. However, she acquired one special skill that brings out "the desire for rest" inside a person's body. This special ability can even easily put High Rankers into sleep if they were super exhausted. This skill is called "Every Day is Substitute Holliday".[3]
Notes and Trivia
Her tail is rarely visible.
Gallery
Reference