Land of the Peach Blossom (복숭아꽃의 나라, bogsung-akkoch-ui nala), also known as the Dohwa for short, is a nation that fought against Zahard when he declared himself King of the Tower. It is part of The Five Flower Nation. A notable family from this nation is the family of Dowon and Khane, who was known for their flower shinsoo.[1]
History
At the start of the conflict with Zahard, the king of Dohwa ordered the father of Dowon and Khane to go fight against Zahard, which caused him to die fighting. This caused Dowon to Join FUG and later the Hidden Grove, with Khane staying behind to defend the country against smaller forces. After two generations of kings the country was on the brink of capitulation, with the capital city being surrounded by Zahard's Army. Then the Army suggested that they would spare them if they got Dowon to seal herself, which the grandson of the king that sent her father to die humbly asked her to accept sealing herself. Dowon agreed to this proposition in order to save the people of her country. The nation eventually stopped being a kingdom and became part of the Wall of Peaceful Coexistence, with the position of King becoming the position of Chairman.[1]
Symbol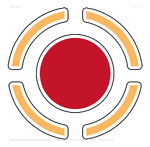 Top Ranks Officer: The king was seen to wear this symbol on his dark blue robe. After Dohwa was disbanded, and the majority of it's citizen moved to the second wall at the Wall of Peaceful Coexistence, this symbol was used as the marks of wall guards' high ranking officers position which was hold by a Ranker. Daleet is one of wall guard ranker who wear this symbol.
Dohwa's Banner: The symbol of Dohwa was seen inside the king's room as a banner.
Gallery
Known Members
Royal Bloodline
The list of Dohwa's Royal Descendants:
Possibly several generations of Kings.
Unnamed King who ordered Dowon and Khane's father to enter the battlefield and fight the alliance of Zahard forces. He is a Ranker, a Wave Controller and a Sorcerer.[1]
Unnamed King who choose to sacrifice Dowon for the price of coexistence.
Kal Rahim, a royal descendant who eventually lost her position and become Chief of Wall of Peaceful Coexistence.
Koer, a royal descendant who's in charge of the town at the Wall of Peaceful Coexistence.
Dowon and Khane's Family
Generations of their family are expert in Flower Shinsoo.
Father of Dowon and Khane, (ranker, deceased)
Dowon, (ranker, war hero, co-leader of the Hidden Grove team)
Khane, (ranker, younger sister of Dowon)
References
Community content is available under
CC-BY-SA
unless otherwise noted.