Jurassic World: Dominion Dominates Fandom Wikis - The Loop
Play Sound
"
This bitch has got quite an attitude, talking to an older sister who is like the pinnacle of the Tower.
"

—Maschenny about Ha Yuri Zahard [3]
Khun Maschenny Zahard (쿤 마스체니 자하드, Kun Mahseuchehni Jahad) is a Top 100 High Ranker in the Tower from the Khun Family and the owner of the Yellow May, one of the 13 Month Series. She is the only Princess of Zahard in the Khun Family to be awarded with a 13 Months. She is a direct descendant, the biological daughter of Khun Eduan and Khun Maschenny.
Appearance and Personality
Maschenny is a pale-skinned, tall woman with an hourglass figure, very long light blue hair and blue eyes. In her most recent appearance, she wore a dark-colored outfit.
She has been shown to be extremely haughty, stating Ha Yuri Zahard, a prodigy even in the ranks of Princesses[citation needed], was only a novice and should hand her 13 Month Series weapons to her. She has a short temper and calls Yuri a "bitch" for denying her rights over her weapons. Being a member of the Khun Family, it can be assumed that she is deceptive and cunning.
Later into the series, when King Zahard commands his army to fulfill one of the three orders, Maschenny gathered her troops to where Ha Jinsung is. She was very manipulative as she tricked her troops into thinking her and Jinsung were fighting but she was actually telling important secret information to Jinsung so he can hurry to the last station to save the boy whom the king has noticed his existence. She reappears later to backstab Ha Jinsung while he was trying to stop Kallavan from going to the last station to kill the regulars.
She is shown to be a sarcastic individual, asking her subordinate if they want her to bow for her "mistake". She also said that the smell of blood gets her in the mood for a fight, hinting a sadistic personality.
She appears to lie frequently as seen when she told Jinsung that she would make it "quick and painless" for him, before cruelly torturing him until he passed out.
Later on, during the Nest she tells guards from the Zahard Army and the Lo Po Bia Family (as well as Jinsung himself) that she was going to seal Jinsung and communicates to the Lo Po Bia that she had captured the Irregular.
Image Gallery
She appeared very briefly in the second season as she was exiting Repellista Zahard's residence. Encountering Yuri Zahard, the two had a heated conversation with Alumik Edrok noting how well the two 'got along'.
A woman appears in Ran's flashback, and gives him advice on how to fight members of the Arie Family.
This woman is presumably Maschenny Zahard.
Shilial Zahard claimed that she and her sister were allied with Maschenny.
Maschenny asked Ha Yuri Zahard to make a bet with her, wagering her Yellow May against Yuri's Green April.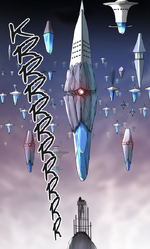 After Zahard gave out his three orders, Maschenny and her troops went to the 91st Floor and engaged in combat with Ha Jinsung. She tricked her troops into thinking they were fighting and secretly tells Ha Jinsung the army's plan. She tells Jinsung that King Zahard has already noticed the existence of an Irregular and ordered his army to kill him and everyone else on the Hell Train.
During the fight between Ha Jinsung and Kallavan, Mashchenny Zahard took an opportunity to backstab Jinsung after his arms were crushed by Kallavan. She impaled Jinsung with her spear through his back. After Kallavan rushes through the warp drive to the Last Station, a severely injured Jinsung asks Maschenny what she is after. Maschenny states that her goal isn't much different than Jinsung's, she just believes she needs to shed more blood for it to occur and continues to electrocute an injured Jinsung. 
At the same time as the battle at the Last Station ended, Maschenny and her prison ship are in the airspace where Ha Jinsung and Kallavan fought. She alludes to keeping Jinsung alive for his "impressive connections". When Jinsung asks where Baam is, she tells him that he is alive.
She reiterates that she has the same goal as Jinsung but believes that she needs to shed more blood. She calls Jinsung silly for expecting the world to change by playing babysitter and declares that she will turn the Toer into a bloody mess.
She reveals that she intends to use Baam to incite a war between the major powers of the Tower that have maintained a careful balance until recently: The Ten Great Family Leaders and their direct descendants, the Slayers and Elders of FUG, the disciples of the Workshop, Wolhaiksong, ancient warriors who have disappeared from the rankings, and finally, King Zahard and his Princesses. She read ancient books detailing the battles and believes the current era is trivial and dull in comparison.
Jinsung tells Maschenny that she overestimates herself and is acting like she knows something she has never experienced. He explains that she knows nothing about those "ancient beasts" that she mentioned, and even less about Baam, as nobody knows what Baam will become.
After Princess Maschenny received an update on the battle at the Wall of Peaceful Coexistence, she began talking to herself about The Nest and The Frozen Waterfall. She said Ha Jinsung is sealed inside the Frozen Waterfall as a bargaining chip but she believes it is just an excuse and its real reason was to lure the Irregular and his companions to them and wipe them out.
Later she is shown to be talking to the Corp's Commanders in a room. In response to Yasratcha's question of wondering why the Irregular is so special that needs two entire corps, she tells him that the Irregular managed to escape from the 4th army corp at the Last Station and also officially beat a Ranker from the Ranker Administration Office on the 50th Floor. While the two corps commander was arguing, Maschenny interrupts them and tells them to forget the past. She noted that only the Lo Po Bia Family sent a decent amount of troops. She has also noted conflicts between great families and FUG's action has started because of the Irregular.
Powers and Abilities
She is an extremely powerful Ranker, being one of the top 100 High Rankers.[2] She also owns the Yellow May and was one of the Rankers who assisted in capturing Eurasia Enne Zahard (who is ranked 7th). She was also shown to be able to clash with Ha Jinsung, a fellow top 100 High Ranker, while being acknowledged by him to be holding back.
Lightning Barrier: She can create a wide range powerful lightning barrier to protect a large number of Floating Ships of the Zahard's Army, as shown by how she protected the left side of the middle group squad behind her with a barrier, while the entire left wings squad of suspendships was totally destroyed by Jinsung's Red World (Water Drop) to dust.[4]
Maschenny Style: Lightning Spear Technique (마스체니식: 전창술, Mahseuchehni-sig: Jeonchangsul): A technique invented by Maschenny herself, described as the "Ultimate spear technique". It allows the user to take on a Spear Bearer position without being armed with spears. In Maschenny's case, her Lightning Spear is far stronger than a usual High Ranker's spear technique. It is currently unknown if she suffers the same side effects that Ran does, who claimed he could not use the technique often.
Maschenny Style Spear Skill - Tres Cuemos (마스체니 식 전창술 세개의 뿔, Maseucheni Sig Jeonchangsul Segaeui Ppul): An extremely long fork-like spear that is carrying a condensed Baang of electric shinsu. She threw the baang at Jinsung, causing both attacks from Jinsung and hers to collide, resulting in a huge explosion.
Notes and Trivia
She is ranked within the Top 100 of all Rankers.[2]
Although she is a Fisherman, she is more proficient as a Spear Bearer.[2]
At some point in her past she fought a younger Khun Ran and mentioned he would become a good warrior.[5]
She may be named after Javier Mascherano.[6]
Maschenny cleared the Hell Train at a very young age.[7]
SIU has stated that Khun Maschenny Zahard and Khun Ran are children of Khun Maschenny (one of Khun Eduan's many wives). Because of the same name, he thinks it is causing confusion to some.[8]
She and Ha Yuri Zahard will show up much more later in Zahard's Princesses arc.[9]
Quotes
References