Main article: Name Hunt Station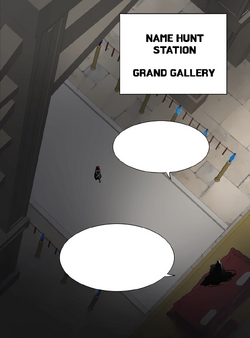 The Grand Gallery (대 호람 , dae holam, Great Holam)[1] or also known as the Kaiser's Gallery is a building used by Kaiser as her base or headquarter while she rule the Name Hunt Station for over thousand years. Kaiser also seems to use this place personally as a "battle arena" to challenge any newcomers who tried to defeat her.
History
She defeated Androssi Zahard[2], and Arie Inieta[3] (hundred years ago)[4] in this building.
After Inieta defeated Rak Wraithraiser, Yeon Yihwa and Hong Danhwa, he took them as hostages and brought them into the Grand Gallery for Kaiser. Inieta asked for a favor to Kaiser that wanted to make Rak as his servant, but Kaiser rejected it.[4]
The Grand Gallery is connected to the Kaiser's Auction House via a huge pipe bridge.[4] Twenty-Fifth Baam, Khun Aguero Agnis and Red Greymon first intended to use this bridge after they defeated Alphine, but they were intercepted by Ship Leesoo who destroyed the escalator with a Shinsoo Bomb. Leeso destroyed the path for a good reason, because the path was installed with many explosive bomb traps. So, he actually saved them. There's only one way to get to this Grand Gallery, which is by riding a small floating island which specially built for the route to the Grand Gallery.[5]
Finally Kaiser was defeated by Twenty-Fifth Baam in the Grand Gallery.[6]
Rules
When the day of the Festival begin, the Grand Gallery building will rise up to the sky and become an isolated island on the mid air. Any Regulars who aren't qualified to participate in the festival are restricted to approach the Gallery.[4]
Appearances
Blue roof, brown wall, red bars checkered window. There's a huge round comfy red sofa, almost like a bed, probably being used as Kaiser's throne.
Image Gallery
References
Community content is available under
CC-BY-SA
unless otherwise noted.