Doctor Strange in The Multiverse o Madness - The Loop
Play Sound
"
In FUG, there are those who have a grudge against 10 Great Families and Zahard, those who envy what they possess, and those who want to change the Tower. A Slayer is a god who fulfills their wishes... hang in there, my god.
"

—Hwa Ryun to Viole[5]
Hwa Ryun (화련, Hwaryeon; or "Hwaryun") is Viole's Guide but is also the Guide for FUG's Rankers notably Ha Jinsung. It was revealed that she went into the Floor of Death first, instructing another Red-haired lady to lead the way for Yuri and Khun's team.
History
Hwa Ryun is a member of the Red Witch species known for being Guides and currently a member of FUG. Evan Edrok briefly encountered her during the Submerged Fish Test and was shocked by seeing her, although Hwa Ryun and Evan don't actually know each other.[6]
Notes and Trivia
In one of the chapters of the flashback,[7] she is shown with both her eyes intact. And when she was among the Regulars waiting to take Lero-Ro's barrier test, she was depicted as having covered her whole face with a jeweled mask. However, after her eye was injured by Baam, she covered it with an eye patch. It should also be noted that regardless of her eye's condition, she actually does like her eye-patch.[6]
Hwa Ryun's species is Red Witch known for their bright red hair and for being Guides.
SIU wrote that she was the most beautiful woman of the Season 1 Regulars.[8] He further stated that this was a foreshadowing,[9] the importance of which has yet to be revealed.
Hwa Ryun and Evan Edrok do not know each other.[6]
Though Hwa Ryun refers to Baam as "My God" like FUG subordinates are known to do towards a Slayer, in the original Korean she says it with informal language, making it sound more like a pet-name than a sign of devotion.
Her name means "inferno wheel" when translated from Korean to English. It could also mean "lotus flower", which her Chinese name (花蓮) translates to.
She was technically failed on the 2nd Floor and is no longer a Regular.[10] She is still able to journey through the Tower and climb Floors as she wills thanks to her Guide position.[11] She therefore does not take Floor tests.
She is the only Guide (besides Yuto) who is a Regular (despite having been disqualified on the Second Floor technically).[12]
If Khun is an elite who is good with petty tricks, Hwa Ryun is more like the one who pulls strings from behind and possesses dark secrets.[13]
Quotes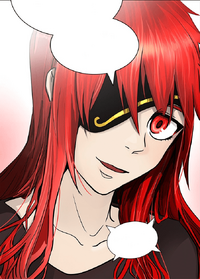 References