The Sandman Will Keep You Awake - The Loop
Play Sound
Yuri Zahard: "Just like Urek, this Wiki is the best place to work at, but has the worst pages to work on!"
This article is a stub! You can help Tower of God Wiki by expanding it.


Further discussion should take place at this article's talk page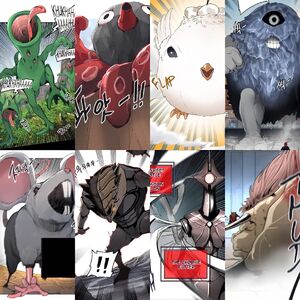 Hidden Floor Villain (숨겨진 층 빌런, Sumgyeojin Cheung Billeon) or just Villain (빌런, Billeon) for short is a quest monster which has to be defeated by Regulars or "Warriors" on their journey and adventures in the Hidden Floor.[1]
About
Hidden Floor Villain is summoned through the Hidden Floor Villain Scroll. When the quest begin, a villain monster will appear in a certain spot. If the Regulars managed to defeat the villain, it means they have completed the quest and they will receive "Good Deed Points". If Regulars can gather enough good deed points, they will fill the Good and Evil Monitor device with white bars indicator or white light. After the white light is full, the Big Breeders will give you the scroll for the "Main Quest" where you have to defeat the final villain or "Champion Villain" to banish that the Fruit of Good and Evil (선악과, Seon-aggwa) to hell.[1] Apparently, there is actually no difference between normal villain or champion villain. Big Breeders can summon any villain and decide whether it would be normal villain or champion villain. They can also increase the power level of a villain.
Main Quest=
Main Quest (메인 퀘스트, Mein Kweseuteu) is a final quest given directly by the Big Breeder to the Regulars. This is actually a "fake main quest" to "deceive" Regulars from knowing the existence of another virtual world called the "Hidden" Hidden Floor. The "hidden main quest" can be accessed after Regulars fill the Good and Evil Monitor device with black light.[2]
List of Hidden Floor Villains
These are the list of the Villains:
Gallery
Notes and Trivia
References