Cobra Kai Season 4 - The Loop
Play Sound
Sweet Castle (Hidden Stage 2: 달콤한성, Dalkomhanseong) is the "hidden" second stage of the Hidden Floor and a giant Ice Cream-looking structure that was owned by Data Eduan. This is the territory of Khun Family inside the Hidden Floor.[1]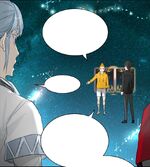 Khun Aguero Agnis was shocked that he would meet his father so soon, but Data Yu Han Sung calms him down by telling him that his father won't recognize him anyway. They decide to split up into two teams, where team A goes into the next normal level, Cold Land, to find their companions, while team B goes to the secret level, Sweet Castle, to find the data of Khun Eduan.[1]
After they arrived on top of the giant flower near the Ice Cream Cone structure, Team B (Boro, Sachi Faker and Batis) were greeted by the quest scroll monster dragon, but Batis told them they need to do something first before doing the next quest. Batis then was helped by Sachi to get on top of the straw in the giant ice cream cone where he proceeds to yell down the straw. He yells that the person that Yu Han Sung promised has arrived and he hopes Khun Eduan will help in the fights against Data Zahard and the Big Breeders. Data Asensio then asked his father if they will response or not.[2]
Data Asensio then teleported himself via a mirror to the outside to meet the team B. He then proceed to ask Batis where is that person who will complete his father's wish. Batis tells him that "the person" is not here, as he needed to distract the Big Breeder on the other stage. Data Asensio quickly ordered Sachi and Boro to summon the strongest villain and told them that he will defeat it for them. A quest scroll monster then appeared from inside the flower and it summoned the champion villain Chrome Cutter. After Data Asensio destroyed the champion villain for Team B, Data Maschenny then contacted Asensio and scold him, telling him to hurry up since their father is getting impatient.[3]
Known Residents
Drago (Quest Scroll Monster)
Images Gallery
References