Jurassic World: Dominion Dominates Fandom Wikis - The Loop
Play Sound
Grande (그란데, Geulande) is a Ranker and Canine People. She is one of three leaders of Baylord Paul's Clan.[1]
Appearance and Personality
Not much known about Grande's personality given her limited role and appearance in the story. All we know that Grande is very loyal to Baylord Paul. She agreed to follow Lord Paul to the Battle of The Second Wall of Peaceful Coexistence and Battle of The Nest despite their past history of being exiled from The Cage and abadoned by Baylord Yama as a member of Canines race.
Grande is a female wearing white dress and a dog full face mask. She has brown red hair
History
Grande belongs to canine people, who were chased out from the Cage by Baylord Yama. They lived with only revenge Yama in mind.[2]
Grande arrived together with Venti and Tall at the Cage. They came to join Baylord Paul who managed to sneak in undetected inside The Cage through a white creature called Myan.[3]
After she killed Chang, Grande followed Tall and Venti to confront rankers from Yama's Pack. They decided to spread and Grande later ended up encountering Death Lady flying in the sky, a follower of Karaka who was chasing after Madoraco. Grande attacked Death Lady, but the Lady easily dodged her attack. Before Grande and Death Lady managed to fight, they were intercepted by a very powerful attack of the Unnamed Ancient Spear which was thrown by Ruel Mon to attack Baylord Doom.[4]
Powers and Abilities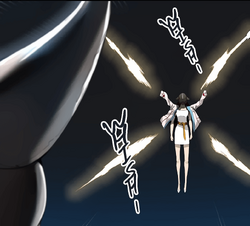 As one of three leaders of Paul's group, Grande is quite strong. She is still a Ranker. Grande first displayed her ability when she attacked Chang Blarode and Quaetro Blitz from long distance. She was seen to create one diamond-shaped yellow shinsu Baang.[1]
Shinsu Control
Grande can control up to 4 shinsu Baangs in the form of yellow diamond.[4]
Gallery
References
D