"
This is our Red Witches Race Guides secret place: The Gallstone Village~!
"
The Gallstone Village (담석 마을 입니더 , damseog ma-eul ibnideo) is a secret hideout that was located somewhere, deep within the 43rd Floor with routes that only known to the red witches. This hideout was used by the Red Witches race to reside in the Floor of Death.[1] The reason why the red witches built a village deep inside this floor remains unknown. Although according to Hwa Ryun, the red witches' generations travelled to the Floor of Death for tradition of pilgrimage reason.[2]
Structure
The structure of the village seems to be built within an upside down massive size stone cave like stalactite. (See Wikipedia: Stalactite). We can clearly see that there's many man-made holes that seems to be functioned as windows and also there is a long stair which lead to the door entrance to the stone cave.
Paths/Routes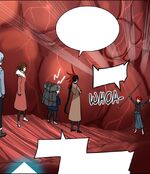 There are 2 (two) routes to the village that we have known so far, one path/route was used by red witch guide Ai to lead Ha Yuri Zahard, Khun Aguero Agnis, Androssi Zahard, and Evan Edrok to the Gallstone Village. This route is a normal one.
Secret Path/Route
"
I entered this place using a different path from you guys, because the path that I used is a path that only the Red Witches should know about.
"
There is an alternative path/route to enter the
Gallstone Village
in the Floor of Death which should be kept top secret from the outsiders and only the red witches race should know about it. It seems that the knowledge of this path was passed down from many generations to generations.
Pilgrimage Tradition
The Red Witches generations have a tradition to travel to the Floor of Death and visit the Gallstone Village as a form of pilgrimage for their past ancestors. But the Floor of Death is only one of those many place used by the Red Witches to do pilgrimage tradition within the tower. The Red Witches rely on "memories" that have been passed down for ages by their ancestors to find the whereabouts of the Floor of Death and the Gallstone Village.[2]
Alternate Translations
References
Community content is available under
CC-BY-SA
unless otherwise noted.