Wiki Targeted (Entertainment)
Play Sound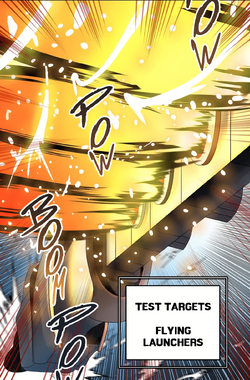 Flying Launcher are a test target used in the Advancement Test on the 49th Floor.[1]
Functions
Flying Launcher is used to test the participants skills in order to let them continue to the next floor. They are medium-large, but posses high maneuverability and speed, easily capable of dodging a variety of attacks.
Plot
Khun requested help from Rak, to be able to destroy a Flying Launcher, but the Fly managed to dodge Rak's attack very easily. Khun then froze the Flying Launcher with his new Lighthouse Flow Control technique, the "Ice Triangle" and finally Rak crushed it with his stomp.
Powers and Abilities
The Flying Launcher is very fast and very agile. It's hard to catch since it can also evade or dodge an attack.
Images Gallery
References